Australia Streaming Wars Q1 2022: Netflix, Prime Video, Disney+ Consolidates
Sean Fang
Sat, 23/04/2022 - 14:47
The top 3 streamers in Australia, Netflix, Amazon Prime Video and Disney+, all consolidated their hold on the streaming market, while the other players had to deal with a shrinking share of the pie.
Thanks to data provided by streaming search engine JustWatch, we can finally see just how well each streaming service is doing in Australia for the first quarter of 2022.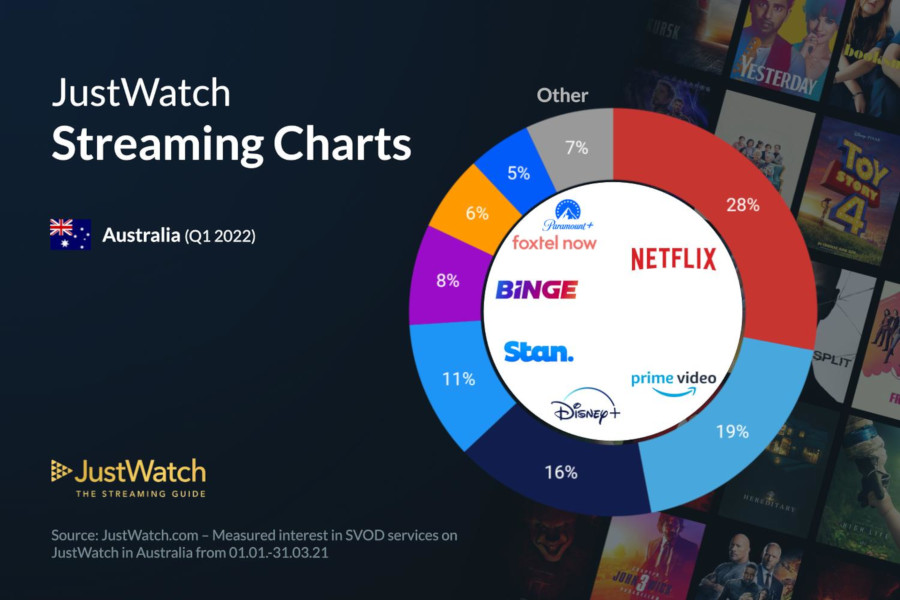 We didn't have wholesale changes in terms of the ranking of the most popular streaming platforms in Australia, but as mentioned above, the "Big 3" all saw market share growth compared to the last quarter's results. Netflix remains the most popular streaming platform in Australia, and despite recent headlines, actually saw its share of subscribers grow from 27% to 28% of the entire Australian marketplace.
Amazon Prime Video actually had the larger growth, from 17% to 19%, but it is still some ways behind the Netflix juggernaut. Disney+ also saw its share of subscribers grow from 15% to 16%, as the battle for second place heats up.
These three were the winners, and of course, it means there have to be some losers. Stan and Foxtel Now both saw their market share fall by 2% - Stan dropping to 11% from 13% and Foxtel Now dropping from 8% to just 6%. Despite its good start, Paramount+ also saw its market share drop from 6% to 5%.
It's worth noting while each streamers slice of the pie has decreased, the size of the pie (the total number of subscribers in Australia) may have increased, and so a drop in market share does not have to translate into a drop in the number of subscribers.
In terms of changes in market share through the first three months of 2022, this is reflected in the second set of graphs shown below: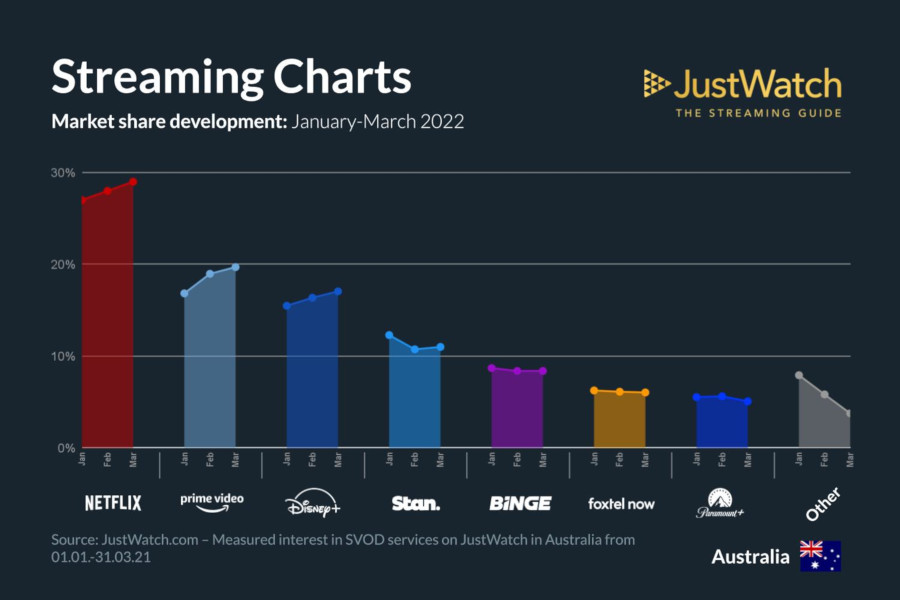 Being at the start of 2022, the above graphs don't really tell us much more than the quarterly growth figures further above. But it's interesting to note that while Stan was down for the quarter, it actually saw growth in March.