Binge Report U.S Streaming TV & Movie Charts: Coming-of-Age, Pandemic Dramas (January 3 - January 9, 2022)
Sean Fang
Fri, 14/01/2022 - 17:04
Welcome to our new Binge Report format, where instead of tracking binge sessions, we are now keeping track of the most popular movies and original TV shows that Americans have been streaming in the last week. For those interested in Australian numbers (provided to us by streaming search engine JustWatch), please have a look here. You can read last week's report here.
The TV Time app (iPhone and Android) helps users organise their streaming plans. The data here is tracked from American users of the app and some shows listed are not available in Australia without the use of a suitable VPN.
Movies:
Amazon's original film The Tender Bar enters the top 10 at 7th place this week, and was one of two new entries in the top 10, the other being "Hitman's Wife's Bodyguard" on HBO Max.
"Death to 2021" and "Black Widow" both left the top 10.
Click on the image below to see a larger version.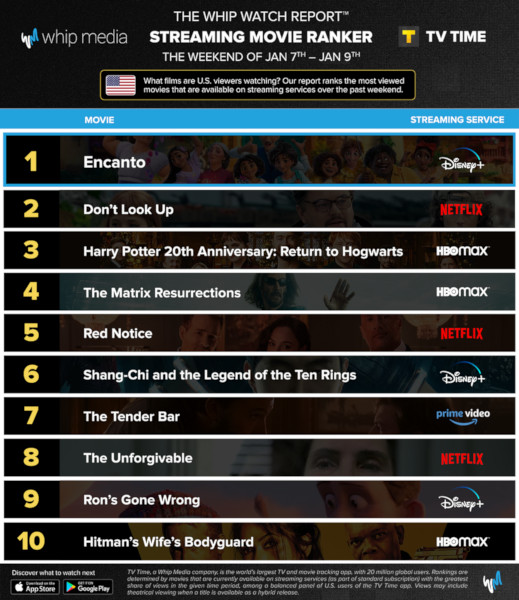 Streaming Originals:
In streaming originals, HBO Max's "And Just Like That" re-enters the top 10 at 7th - the show has become somewhat of a guilty streaming pleasure of late for many.
HBO Max's excellent post-apocalyptic drama "Station Eleven" rightfully earns an 8th place finish. What many thought was a must-avoid "too close to home" pandemic drama has become a must-see.
Paramount+'s "Mayor of Kingstown", which stars Hawkeye's Jeremy Renner (Hawkeye still in the top 10, at 9th), enters at 10th place.
"The Wheel of Time" and "Star Trek: Discovery" both bow out just as their seasons end. "1883" also left the top 10.
Click on the image below to see a larger version.