Top 10 Aussie Streaming Charts: 2021 in Review
Sean Fang
Wed, 29/12/2021 - 15:57
It's that time of the year again, where we look back and check out the most popular streaming movies and TV shows in Australia based on data collected by streaming search engine JustWatch. Data includes subscription streaming as well as transactional streaming titles.
It's been a big year for streaming, with lockdowns and cinema closures, watching your favourite TV shows and movies at home had become a necessity, rather than a choice. Looking at the most-streamed TV shows and movies, there are some obvious entries in the top 10, but also a few surprises. Read on the find out ...
Movies:
Godzilla vs Kong was the year's most popular movie on streaming, and one of the year's earliest hits. Right now, it's made its way to Netflix as well as Binge, but at the time of release, it was available on the usual mix of premium VOD platforms.
Anyone's who's watched Promising Young Woman won't be surprised by its second-place finish. It's one of those movies that stays with you long after the end credits roll.
"Zack Snyder's Justice League" (Binge/Foxtel Now) was in third, the most popular streaming-exclusive release this year, while The Dry is the only Aussie film in the top 10, at 4th.
"Wonder Woman 1984", "F9", "Nobody", "A Quiet Place Part II", "Tenet" and "Free Guy" round off the top 10, and you have to say most of these were expected (maybe "Nobody" a bit higher in the list than predicted).
Click on the image below to see a larger version.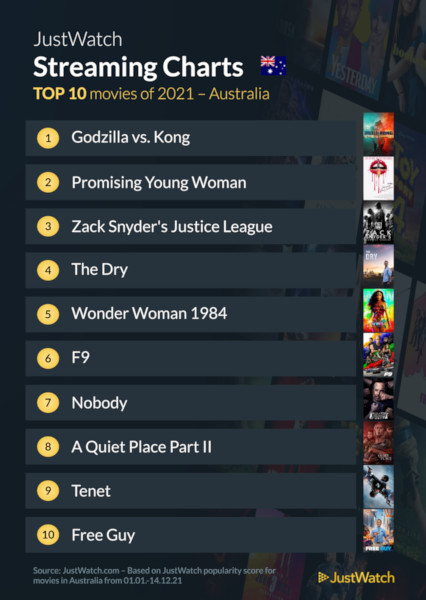 Television:
British crime drama Line of Duty was the most-streamed TV series of 2021, which isn't a surprise considering the binge-ability of the show, and the fact that it seems to be on every other streaming platform (Netflix, BritBox, Stan, Foxtel Now, and Acorn TV).
Aussie prison drama "Wentworth" (Binge/Foxtel Now) was the second most-streamed series, just ahead of a rather odd entry, the US drama series Queen of the South.
Special mention goes out to "Mare of Easttown" (Binge/Foxtel Now), not just because it's quality drama, but also because being the first season/limited series and not having that many seasons/episodes, it still managed to finish 5th on the chart. Also special mention to Mr Inbetween (Binge/Foxtel) in 7th - always good to point out quality Aussie content.
Click on the image below to see a larger version.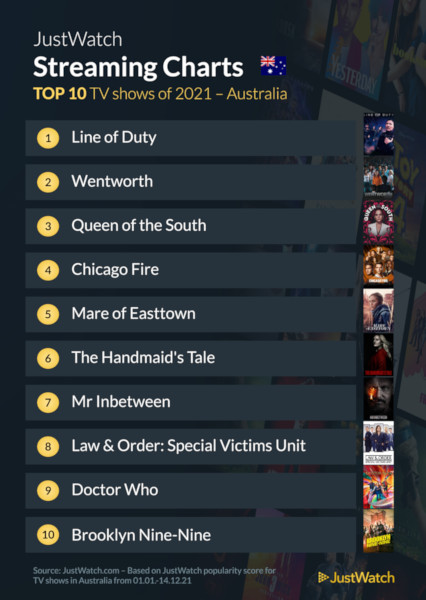 Looking for more content to watch, or looking to see where you can stream that TV or movie you want to watch? JustWatch allows you to easily search for a piece of content and find out how to stream it legally in Australia.