Binge Report U.S Streaming TV & Movie Charts: Planetary Disaster and Karate on Top (December 27, 2021 - January 2, 2022)
Sean Fang
Wed, 05/01/2022 - 16:49
Welcome to our new Binge Report format, where instead of tracking binge sessions, we are now keeping track of the most popular movies and original TV shows that Americans have been streaming in the last week. For those interested in Australian numbers (provided to us by streaming search engine JustWatch), please have a look here.
The TV Time app (iPhone and Android) helps users organise their streaming plans. The data here is tracked from American users of the app and some shows listed are not available in Australia without the use of a suitable VPN.
Movies:
As we don't really have the previous couple of weeks' charts due to the holidays, so we can't exactly track what's in and out of the top 10. We can still highlight some of the titles in the list though.
Top spot belonged to Netflix's biting social commentary satire Don't Look Up. Critics seem to hate it, but everyone else seems to love it for its commentary on the climate wars (which also applies to COVID).
HBO Max's "Harry Potter 20th Anniversary: Return to Hogwarts" reunion special was in second place, and not surprising considering how much hype it received. Disney+'s Chrismas Eve released

Netflix's comedy special Death to 2021 was in 6th place while Disney+'s Ron's Gone Wrong was still in the top 10, at 10th.

Click on the image below to see a larger version.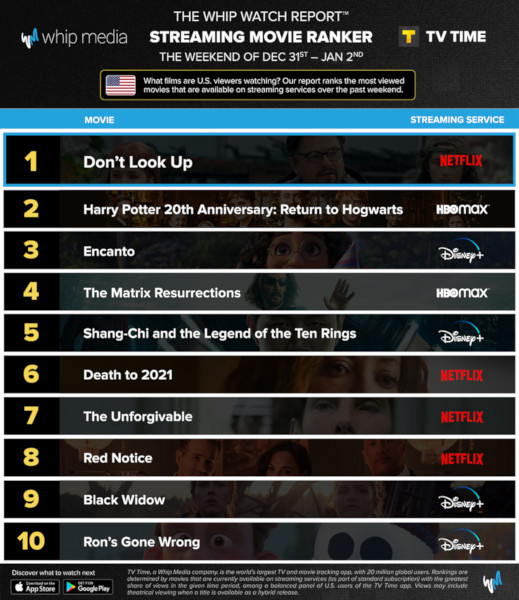 Streaming Originals:
A new season of Netflix's Cobra Kai propelled it to the top of the streaming originals chart. I still have a half-watched first episode of season 3 in my watch list, got distracted by the endless arrival of great new shows and new seasons, so will have to circle back and get it done. One of the shows I'm currently streaming is The Witcher, season 2, which was second. Emily in Paris was in third.

New to the top 10 was The Book of Boba Fett, the new limited series having just started last week and a new episode coming in a few hours from when I publish this article - it's fascinating so far, even if it still is very much in the introduction phase.

Other notable entries in the top 10 include Queer Eye in 8th (a new season), and yet another show I'm streaming currently, The Expanse (highly recommended).

Click on the image below to see a larger version.