Binge Report U.S Streaming TV & Movie Charts: Disney+ Day Releases Dominate (November 8 - November 14, 2021)
Sean Fang
Wed, 17/11/2021 - 22:37
Welcome to our new Binge Report format, where instead of tracking binge sessions, we are now keeping track of the most popular movies and original TV shows that Americans have been streaming in the last week. For those interested in Australian numbers (provided to us by streaming search engine JustWatch), please have a look here
The TV Time app (iPhone and Android) helps users organise their streaming plans. The data here is tracked from American users of the app and some shows listed are not available in Australia without the use of a suitable VPN.
Movies:
Those that follow the Aussie version of this report won't be surprised by the new entries into the top 10 this week, the most popular one being Shang-Chi and the Legend of the Ten Rings. That's because they would have known about Disney+ Day and the big releases that happened during the day, including "Shang-Chi" as well as Jungle Cruise and the "Luca" short film Ciao Alberto. The latter two were 4th and 8th respectively.
It wasn't all Disney though. Netflix's Red Notice has the superstar trio of Dwayne Johnson, Ryan Reynolds and Gal Gadot and so its popularity, coming in second, was assured. Taylor Swift's All Too Well: The Short Film, the short film which she wrote, directed and appears in and accompanies the re-recorded version of the song of the same name, was third.
"Army of Thieves", "Halloween Kills", "Hypnotic", "The Nightmare Before Christmas", and "Night Teeth" all left the top 10.
Click on the image below to see a larger version.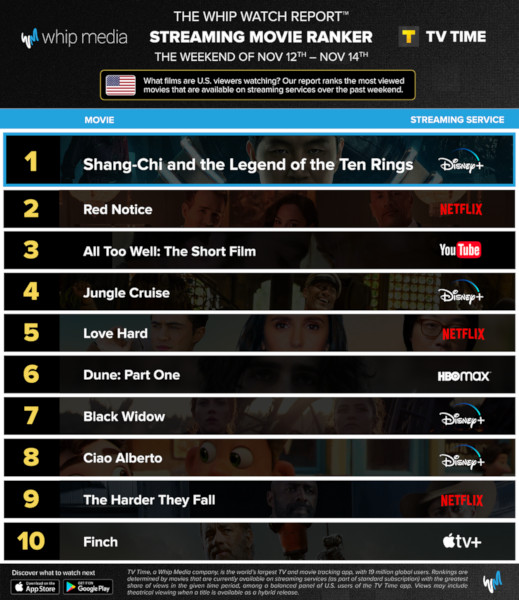 Streaming Originals:
A new season of Narcos: Mexico has helped it get back into the top 10, at 5th, while season 2 of the rebooted "Animaniacs" on Hulu was in 7th place.
"Squid Game" and "Ted Lasso" both gracefully exit the top 10 after a tremendous run (but might float in and out of the top 10 for the next little while).
Click on the image below to see a larger version.