Top 10 Aussie Streaming Charts: Shang-Chi Ascendant (Week Ending 14 November 2021)
Sean Fang
Tue, 16/11/2021 - 12:23
Welcome again to our weekly feature where we look at the most popular streaming movies and TV shows in Australia based on data collected by streaming search engine JustWatch. Data includes subscription streaming as well as transactional streaming titles. Click here to read last week's roundup.
Movies:
Netflix has used its star pulling power to create Red Notice, and while it has only received average reviews, users still tuned in to see the powerhouse trio of Dwayne Johnson, Ryan Reynolds and Gal Gadot - it was the most-streamed movie for the week.
Shang-Chi and the Legend of the Ten Rings was in second place after the hit movie arrived on Disney+ as part of Disney+ Day. The same event also saw Jungle Cruise make its subscription streaming debut, it was a bit less popular, ranking in 6th.
The "Bond" theme of the top 10 continues with "Skyfall" (premium VOD) joining the fold, along with "Spectre" and "Casino Royale"
"Army of Thieves", "Nobody", "V for Vendetta", and "Old" all left the top 10 as a result.
Click on the image below to see a larger version.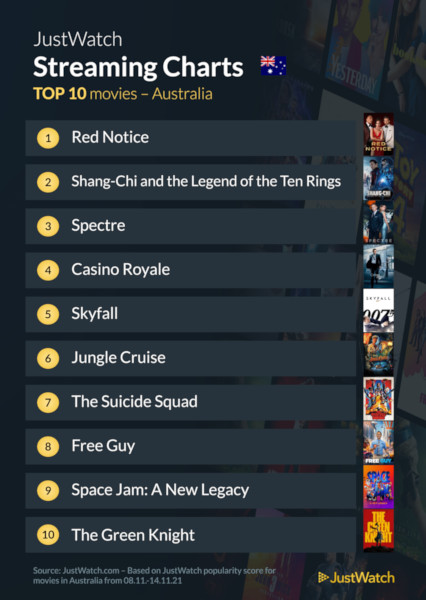 Television:
It was coming, especially with the original "Dexter" being in the top 10 for a while now, but the reboot "Dexter: New Blood" on Paramount+ enters the TV top 10 in second place, just behind the original show. The well-reviewed show seems to have struck a chord with audiences.
"Succession" (Binge/Foxtel Now) is back in the top 10 - the critically acclaimed HBO show has really notched up the tension in recent episodes.
Apple TV+ continues to be the home to some new exciting original series, and the miniseries "The Shrink Next Door" (Apple TV+), starring Will Ferrell, Paul Rudd and Kathryn Hahn, seems to have people talking (and more importantly, streaming).
As a result, "Ghosts" and "The Sopranos" all left the top 10, along with "Line of Duty" for the first time in a very long time.
Click on the image below to see a larger version.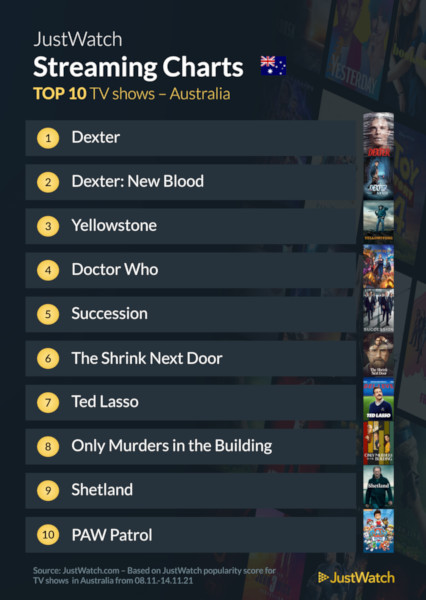 Looking for more content to watch, or looking to see where you can stream that TV or movie you want to watch? JustWatch allows you to easily search for a piece of content and find out how to stream it legally in Australia.