Australia Streaming Wars Q3 2021: Disney+ Overtakes Stan, Strong Debut for Paramount+
Sean Fang
Mon, 11/10/2021 - 16:26
Disney+ has overtaken Stan as Australia's third most popular streaming platform, while Paramount+ had a successful launch.
Thanks to data provided by streaming search engine JustWatch, we can finally see just how well each streaming service is doing in Australia for the third quarter of 2021.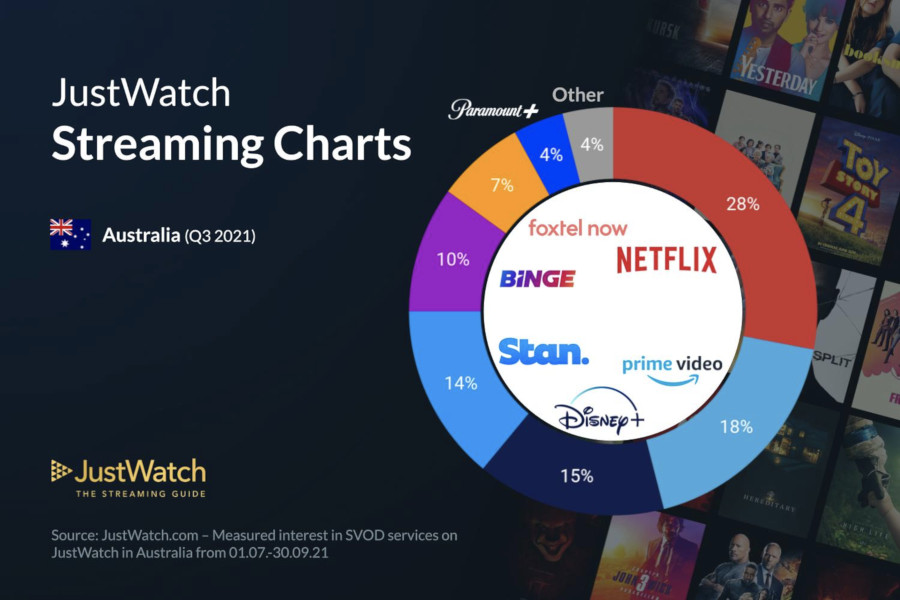 Compared to the last quarter's results, at first glance, everything appears to have stayed the same. Until you notice that there is a new streaming platform in the chart in the form of Paramount+, which now has a 4% market share having been launched in Q3.
As a result, the market share of the other platforms had to shrink a little to accommodate. Netflix now holds 28% of the market (down from 29%), Amazon Prime Video was at 18% (down from 19%). Disney+ held steady at 15%, but Stan was the "biggest loser", dropping from 16% to 14% and losing third place to Disney.
Binge and Foxtel Now all remained the same at 10% and 7% respectively. "Other" is still at 4%, and the increasingly popular Apple TV+ would be included here and hopefully will get its own separate piece of the pie in the near future.
In terms of changes in market share in the first three quarters of 2021, this is reflected in the second set of graphs shown below: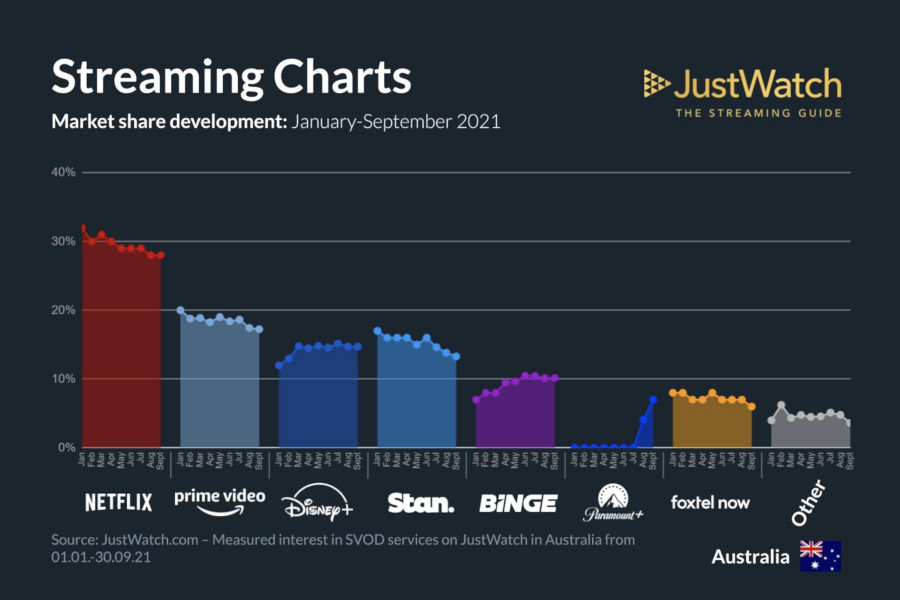 Looking into more detail at the third quarter, Netflix, Amazon Prime Video and Stan (and Disney+ to a lesser degree) all recorded a drop in August, at the same time that Paramount+ was launched. Binge and Disney+ were the ones to drop the least, suggesting they actually grew steadily during that time. During the last month of Q3, most of the platforms held steady, but Stan and Foxtel Now both saw major declines in September, which may signal something of a bigger problem for both platforms going forward.
We also have the updated table for the number of pieces of content on the main streaming platforms in Australia as of the beginning of September 2021.
| | | |
| --- | --- | --- |
| Streaming Service | Total Movies | Total TV Shows |
| Amazon Prime Video | 6,257 | 1,383 |
| Disney+ | 1,502 | 491 |
| Foxtel Now | 8,130 | 3,024 |
| Netflix (Aus) | 4,014 | 2,042 |
| Stan | 2,445 | 634 |
Looking for more content to watch, or looking to see where you can stream that TV or movie you want to watch? JustWatch allows you to easily search for a piece of content and find out how to stream it legally in Australia.