Stan: What's New For February 26 - March 4, 2019
Sean Fang
Mon, 04/03/2019 - 15:31
Well, autumn is formally here, but it still feels like summer. I suspect that will change soon. Weather talk aside, it's been a whole week, and so of course, it's time to take a look at what's been happening on Stan. For a complete preview of everything that's coming in March, take a peek here.
Television:
There aren't any new shows per se, but there are a few returning shows. Season 11 of RuPaul's Drag Race (and companion show RuPaul's Drag Race: Untucked) premiered last week, and it's the same fabulous, and fierce, competition.
There is also the mid-season premiere of All American.
Movies, Documentaries:
So not quite the stellar line-up with television programming, but there are some great movies that have just been added to Stan.
And very few movies come any bigger than Solo: A Star Wars Story, the latest Star Wars anthology standalone film may not have been as huge a box office success as the previous one, 'Rogue One', but it's still a very fun movie that has plenty for fans and non-fans alike.
If you're after another recently released movie, then Power Rangers is definitely a recently released movie. That's probably the only compliment I can give to the film, but then again, I was not the biggest fan of the original TV series despite having watched a fair few episodes of it thanks to my after-school junk food eating, TV watching ritual.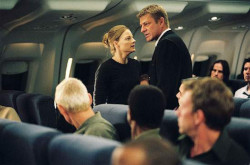 The next two movies, when I decided to highlight them in this week's roundup, did not seem to be related in any way, but both films, released at about the same time, are about a parent losing a child and not being believed for it, with a study of mental illness thrown in. But that's where the similarities end between Jodie Foster's Flightplan and (after Band of Brothers', but before Homeland's) Damian Lewis in Keane, both in genre and in the overall tone. Both are recommended though, but for very different reasons.
Fans of sports dramas, and statistical analysis, will love Brad Pitt's Moneyball.
Release List:
You can view last week's list here.
Here's the complete list of the new additions to Stan for the week of February 26 - March 4, 2019 (Content highlighted above shown in bold below):
Television:
Will & Grace - Season 2, Episode 13
RuPaul's Drag Race - New Season (Season 11, Episode 1)
RuPaul's Drag Race: Untucked - New Season (Season 11, Episode 1)
All American - Season 1, Episode 13
Miracle Workers - Season 1, Episode 3
I Am The Night - Season 1, Episode 5
The Circus - Season 4, Episode 5
Black Monday - Season 1, Episode 6
Movies, Documentaries:
Solo: A Star Wars Story
Keane
Things To Come
Power Rangers
Moneyball
Desert Hawk
Flightplan
Risk
Romeo Is Bleeding
Criminal Law
Ismael's Ghosts