Stan: What's New For February 19 - 25, 2019
Sean Fang
Mon, 25/02/2019 - 17:46
We're about to wrap up February and wrap up summer, and not too soon either because it's another hot one here in Melbourne. Hot weather is not the best for bingeing, to be honest, and not very cost effective as well given the need to account for the air conditioning costs. And the "nice" weather outside also makes one feel guilty about streaming yet another episode of Younger.
Television:
But if you don't feel guilty, and also don't hold any bias towards older shows, then all seven seasons of The Golden Girls. This is a show full of heart, full of laughs, and for the time period, it was on the air, full of moments that were far ahead of its time. So join Dorothy, Sophia, Blanche, Rose and a slice of cheesecake for some great, some not so great, and some very funny times.
Another new show where you can stream the entire series is the very well received Switched at Birth. The family drama is cut above most shows of its kind, especially for a network (ABC) series and it well worth your time.
Movies, Documentaries:
There is again a huge list of movie additions and with all types of releases that will suit all types of viewers.
While those looking for really new releases might be a bit disappointed, but those looking for a classic should be thrilled. How about five Inspector Clouseau movies in the form of The Pink Panther, A Shot in the Dark, Inspector Clouseau, Trail Of The Pink Panther, and Son Of The Pink Panther.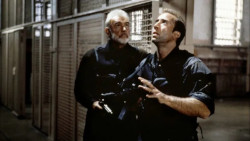 Those looking back towards a simpler time when Michael Bay still made good (at least watchable) movies will love seeing The Rock again, along with other '90s, and Nicolas Cage classics, Con Air and Face/Off.
I know most people will prefer the 1984 version of The Karate Kid, and feel insulted that the 2010 version of The Karate Kid is even called that, considering it's not even about karate, but about kung fu. Still, the 2010 version is by no means a bad movie, and I think it might have benefited from not being named after, and therefore compared to the 1984 original.
And it's been a while since I've seen this film, and I think I actually saw it in the cinemas the first time, but Enemy Of The State is the typical Hollywood mainstream political thriller of that era, and that's not necessarily a bad thing. The movie itself touched on topics that are still very much relevant today, and it too was ahead of its time in many ways. A fun watch, nonetheless.
There is always time for a true classic, and this week, it's worth turning your attentions to The Great Escape.
Release List:
Here's the complete list of the new additions to Stan for the week of February 19 - 25, 2019 (Content highlighted above shown in bold below):
Television:
Will & Grace - Season 2, Episode 12
Switched at Birth - Complete Series (Season 1 - 5)
The Golden Girls - Complete Series (Season 1 - 7)
Miracle Workers - Season 1, Episode 2
I Am The Night - Season 1, Episode 4
The Circus - Season 4, Episode 4
SMILF - Season 2, Episode 5
Black Monday - Season 1, Episode 5
Movies, Documentaries:
The Falcon and the Snowman
Coffy
The Misfits
Romy And Michele's High School Reunion
Stanley & Iris
FX II
The Pink Panther (1963)
A Shot in the Dark
Inspector Clouseau
Trail Of The Pink Panther
Son Of The Pink Panther
The Karate Kid (2010)
The Karate Kid (1984)
Con Air
The Rock
Face/Off
Before I Fall
The Space Between Us
The Great Escape
The Town That Dreaded Sundown (2014)
Assassination Tango
Mr. Saturday Night
Enemy Of The State
My Beautiful Laundrette
A Fistful Of Dynamite (Duck, You Sucker)
Darker Than Midnight