Stan: What's New in March 2019
Sean Fang
Sun, 24/02/2019 - 21:41
With February nearing an end, it's time to take a sneak peek at what's coming to Stan in March. Don't be fooled by the pleasant autumn weather, it's still a great time to stay indoors and stream the best Stan has to offer!
Television:
New series, big premiers are all happening in March. Every month at Stan, there seems to be a new hit show hitting the platform, a show that in the past, would have taken years to get to Australia. For March, it's the turn of 'Now Apocalypse', a series focusing on four friends living in L.A. who embark on various exploits, pursuing love, sex and fame. The comedy series, produced by Steven Soderbergh and written by Gregg Araki ('Kaboom') and Karley Sciortino ('Slutever'), will premier on March 10, with new episodes coming weekly every Sunday.
And on March 18 comes the eagerly awaited season 4 premiere of 'Billions', with new episode to follow every Monday. Expect more feuds, more betrayals and definitely more wild rides.
Also premiering in March is the second season of the comedy series A.P. Bio - streaming episode 1 of season 2 on March 8, and new episodes coming every Friday.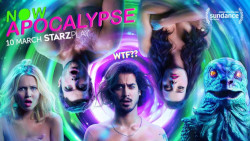 If you're like me and don't have the patience to wait for new episodes week by week, then you can get your binge on with new seasons of shows like Doctor Doctor: Season 2 & 3 (March 20); The Good Fight: Season 2 (March 22); and the complete series of Nashville (March 29).
Movies, Documentaries:
If movies are your thing, then you won't be disappointed in March.
The headlining release of the month has to be 'Solo: A Star Wars Story', the latest gift from the Stan Disney deal. The latest Star Wars movie may have been a relative failure ("only" earned $USD 392 million worldwide), but give it a shot, and you'll find that the film has a lot of charm, and lots of great moments, just like its titular character. Stream it starting March 3.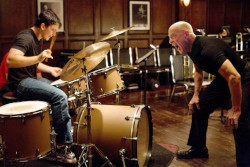 The next two movies both fall into the "recent, but not the newest" categories, but that's where the similarities end between the two movies. The multi-award winning 'Whiplash' (March 17) is written and directed by 'La La Land' director/writer Damien Chazelle, and most say it's actually his better "music movie".
On the other hand, there is the universally panned Johnny Depp and Angelina Jolie vehicle 'The Tourist' (March 31), with many disliking the plotting. Have a watch and decide for yourself.
Older recommended films in March include the excellent sports biography 'Moneyball' (March 1); a Zombie movie with a difference in 'Zombieland' (March 16 - great Bill Murray cameo); political thrills and intrigue in 'In the Line of Fire' (March 17); and the Spielberg sci-fi classic 'Close Encounters of the Third Kind' (March 17).
World movie fans have two Hong Kong classics to consider, the horror classic 'Dumplings' (March 19) and very HK style erotic comedy 'Sex and Zen' (March 20).
------
That's a lot of great content coming in March - get in your streaming pants, get the snacks ready, let's do this!
March Schedule:
Here's a list of everything that's coming to Stan in March. Content highlighted above shown in bold below.
Continuing Series:
Monday: Black Monday: Season 1, SMILF: Season 2, The Circus: Season 4, Billions: Season 4
Tuesday: I Am The Night: Season 1
Wednesday: Miracle Workers: Season 1
Thursday: All American: Season 1
Friday: Will & Grace: Season 2, RuPaul's Drag Race: Season 11, A.P. Bio: Season 2
Sunday: Now Apocalypse: Season 1
Available March 1
Will & Grace: Season 2, Episode 13
RuPaul's Drag Race: Season 11, Episode 1 - Premiere
Moneyball (2011)
March 2
Things to Come
Keane
March 3
Solo: A Star Wars Story
March 4
Black Monday: Season 1, Episode 6
SMILF: Season 2, Episode 6
The Circus: Season 4, Episode 6
Robotrix
March 5
I Am The Night: Season 1, Episode 6 - Final
The Receptionist
March 6
Miracle Workers: Season 1, Episode 4
Beloved
Cannibal
March 7
All American: Season 1, Episode 14
Underbelly Files: Chopper the Untold Story
Chopper: In His Own Words
March 8
Will & Grace: Season 2, Episode 14
A.P. Bio: Season 2, Episode 1 - Premiere
RuPaul's Drag Race: Season 11, Episode 2
March 9
Vincent and the End of the World
March 10
Now Apocalypse: Season 1, Episode 1 - Premiere
March 11
Black Monday: Season 1, Episode 7
SMILF: Season 2, Episode 7
The Circus: Season 4, Episode 7
Truman
March 12
House of Bond
March 13
Miracle Workers: Season 1, Episode 5
Marfa Girl 2
March 14
All American: Season 1, Episode 15
White Lily
March 15
Will & Grace: Season 2, Episode 15
A.P. Bio: Season 2, Episode 2
RuPaul's Drag Race: Season 11, Episode 3
Elementary: Season 5
Charlie's Angels (2000)
Charlie's Angels: Full Throttle
Big Daddy
The Taking of Pelham 1, 2, 3 (2009)
March 16
Underworld (2003)
Underworld Evolution
Zombieland (2009)
Closer
Big Fish
March 17
Now Apocalypse: Season 1, Episode 2
Evil Dead (2013)
In the Line of Fire
Whiplash
Close Encounters of the Third Kind
March 18
Black Monday: Season 1, Episode 8
SMILF: Season 2, Episode 8
The Circus: Season 4, Episode 8 - midseason finale
Billions: Season 4, Episode 1 - Premiere
March 19
The Midwife
Dumplings
March 20
Miracle Workers: Season 1, Episode 6
Doctor Doctor: Season 2 & 3
Sex and Zen
March 21
All American: Season 1, Episode 16 - Final
Embrace of the Serpent
March 22
Will & Grace: Season 2, Episode 16
A.P. Bio: Season 2, Episode 3
RuPaul's Drag Race: Season 11, Episode 4
The Good Fight: Season 2
March 23
Iceman
March 24
Now Apocalypse: Season 1, Episode 3
Dr. Knock
March 25
Black Monday: Season 1, Episode 9
SMILF: Season 2, Episode 9
Billions: Season 4, Episode 2
March 26
Bite Club: Season 1
High Tension
March 27
Miracle Workers: Season 1, Episode 7 - Final
Aroused by Gymnopedies
March 28
Shelter
Child of God
March 29
Will & Grace: Season 2, Episode 17
A.P. Bio: Season 2, Episode 4
RuPaul's Drag Race: Season 11, Episode 5
Nashville: Season 1 - 6
March 30
Tragedy Girls
March 31
Now Apocalypse: Season 1, Episode 4
The Tourist