Video Streaming Roundup: Netflix vs Hulu Plus vs Amazon Prime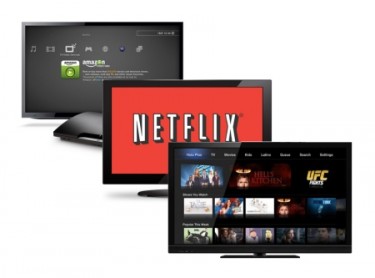 Finding the right subscription streaming providers, or the right combination, can be difficult. Each offer their own range of content, and there are also specific pros and cons when it comes to Australian subscribers due to issues like device support, connection speed. The comparison table below is a cheat sheet as to what each service offers and which is best for you, with more details on each comparison category below the table.
|   | Amazon | Hulu Plus | Netflix |
| --- | --- | --- | --- |
| Pricing: | USD $99 per year | USD $7.99 per month | USD $8.99 per month |
| Classic Movies: | | | |
| New Movies: | | | |
| Classic TV Shows: | | | |
| New TV Shows: | | | |
| Original Content: | | | |
| For Kids: | | | |
| New Release Rental/Purchase: | | N/A | N/A |
| Portable Support: | | | |
| TV Support: | | | |
| Playback Quality: | | | |
Now for the details ...
Pricing
All three services are pretty much priced at the same level. For those actually living in the US, an Amazon Prime subscription may be better value since you get free shipping included, but that doesn't apply to us overseas leechers.
Content
Amazon and Netflix are the most directly comparable, and there's a lot of overlap in their respective content. Each will have their own set of exclusive content, like Justified on Amazon. Both Amazon and Netflix also offers originally programming, but Netflix is way ahead at the moment with House of Cards, Hemlock Grove and the upcoming new season of Arrested Development. For classic movies and some new releases, Netflix seems to have the better library (and those with a geo-unblocker service like Unblock US can take advantage of the ability to switch Netflix regions, to say the UK or Canada, to get even more classic and new content that's not available in the US due to licensing issue).
Hulu Plus is a bit different as it concentrates mostly on TV shows, and it has a great library of classic TV shows that the others don't.
For new content, neither Amazon nor Netflix offers a lot of new movies (especially Hollywood A-listers). This is where Hulu Plus shows its strength, since pretty much all the US network shows make an appearance on Hulu Plus. But you'll have to put up with ads though on Hulu, but they're not too annoying (and it's funny watching US ads in Australia). Amazon Prime's new TV offerings appear to be improving, with older seasons of newer shows like Grimm, Suits and Justified making an appearance (none of these shows are available on Netflix).
Content for children are well catered for by all three services, but Netflix's Just For Kids mode is invaluable (but only available on selected platforms like the PS3 or iPad - it's not available yet on the Android app), as is Hulu Plus's similar Kids Lock feature. Amazon's app does separate content for kids, but there's no dedicated kids mode. Hulu Plus seems to have the weakest library of content for kids though.
Only Amazon allows you to purchase new release content out of the three, assuming you have a valid payment method.
Device Support
Netflix has the strongest device support. For Australians, the app can be obtained on iPhone, iPad, Apple TV, Android devices, the PS3 all quite easily, and the app quality is very good. Hulu Plus would be almost as good, except that its Android app for older versions of Android may not work very well (where the stream constantly buffers - although this only occurred occasionally in our tests on the Kindle Fire version of the app). Amazon is the weakest, since there's no Android app (other than on its Kindle Fire devices), and no Apple TV support. So Netflix easily wins here.
Also note that geo-unblock services like Unblock US don't offer official support for Amazon Prime Instant Streaming, although it does seem to work (at least on the PS3, and on Amazon's Kindle Fire tablets).
Playback Quality/Connection Speed
Netflix's dynamic quality/bandwidth system ensures the least amount of disruptions/buffering during playback, and the Super HD quality (obtainable for those with 8Mbps of higher connection speeds) beats the quality of the other two services quite easily, and probably that of any HD broadcasts here in Australia. Hulu Plus's video quality doesn't get to the same level as Netflix's as it's limited to 720p, and occasionally, you might have to make do with a lower quality stream due to connectivity issues. Amazon does have a lot of HD content, but there are known connectivity problems with the current PS3 app which causes excessive buffering even on the best connections.
Update: A new version of the Amazon Prime PS3 app has been released (which also adds subtitles/closed captions support), and connectivity issues appears to be improved in this new version.
Subtitles Support
This might not be important to everyone, but it is important enough to raise as an issue. Most content on Netflix and Hulu Plus are provided with subtitles, which is fantastic. Amazon's subtitle support has improved a lot in the last year, and with the latest update to the PS3 app, closed captioning support has been added to this platform too.
Conclusion
Comparing the three can be a bit like comparing apples and oranges. Netflix and Amazon are most similar, but Amazon offers paid for content and Netflix does not. Neither can beat Hulu for the latest US TV shows. And all have their exclusives and original programming.
For those that have to choose just one, Netflix is probably the best choice, in terms of content, quality, and device support (here's a guide on how to sign up to Netflix, for those of us that don't live in the US).
For those that can spare the cash to get two services, a combination of Netflix and Hulu Plus makes the most sense (here's a guide on how to sign up to Hulu Plus, for those of us that don't live in the US).
Amazon is starting to become a viable choice, especially in terms of exclusive content. Netflix still has more, especially if you take advantage of the ability to switch regions and it also has better exclusive/original content, so for now, it wins.