Binge Report U.S Streaming TV & Movie Charts: Princesses & Murders (Week Ending July 3, 2022)
Sean Fang
Thu, 07/07/2022 - 14:25
Welcome to the Binge Report, where we look at the most popular movies and original TV shows that Americans have been streaming in the last week. For those interested in Australian numbers (provided to us by streaming search engine JustWatch), please have a look here. You can read last week's report here.
The TV Time app (iPhone and Android) helps users organise their streaming plans. The data here is tracked from American users of the app and some shows listed are not available in Australia without the use of a suitable VPN.
Movies:
Hulu's original movie "The Princess" (Hulu) was the highest-ranked new entry into the streaming movies top 10, coming in a third.
"The Lost City" (Paramount+) returns to the top 10 in 7th place after a brief hiatus, while "The Bad Guys" debuts in 8th place following its release on Peacock.
"Beavis and Butt-Head Do the Universe", "Downton Abbey: A New Era", and "Love & Gelato" left the top 10 to make room.
Click on the image below to see a larger version.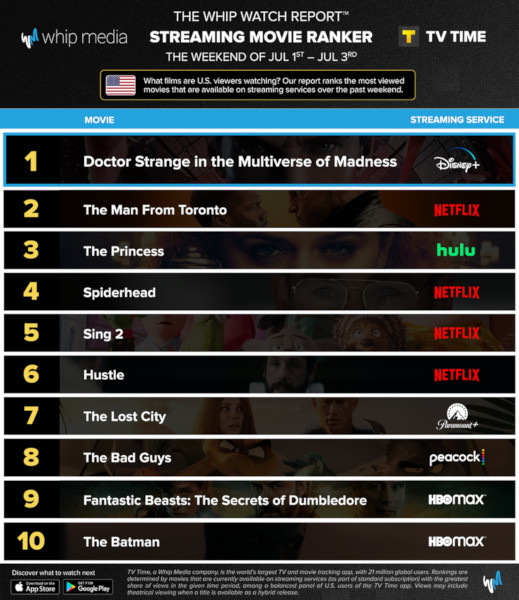 Streaming Originals:
The season 2 return of Hulu's surprise hit "Only Murders in the Building" helped the show re-enter the top 10 at 4th. Amazon's new show The Terminal List was 10th.
"Love, Victor" and "Evil" left the top 10.
Click on the image below to see a larger version.