Binge Report U.S Streaming TV & Movie Charts: Wizards & Superheroes (Week Ending June 26, 2022)
Sean Fang
Wed, 29/06/2022 - 14:12
Welcome to the Binge Report, where we look at the most popular movies and original TV shows that Americans have been streaming in the last week. For those interested in Australian numbers (provided to us by streaming search engine JustWatch), please have a look here. You can read last week's report here.
The TV Time app (iPhone and Android) helps users organise their streaming plans. The data here is tracked from American users of the app and some shows listed are not available in Australia without the use of a suitable VPN.
Movies:
Probably not a huge surprise that Doctor Strange in the Multiverse of Madness, on Disney+ for the first time, was the most-streamed movie for the weekend of June 24 - June 26 2022.
It beat out The Man from Toronto in third and Sing 2 in fourth (the latter is only available on the US version of Netflix - those like me in Australia will have to use a VPN to access).
"Beavis And Butt-Head Do The Universe" (Paramount+) was in 7th and "Downton Abbey: A New Era" (Peacock) was 8th. Love & Gelato rounded off the top 10.
With wholesale changes in the top 10, it meant that "The Lost City", "Father of the Bride", "Top Gun", "Jerry & Marge Go Large", "The Northman", and "Ghostbusters: Afterlife" all left as a result. But some will be back next week, I suspect.
Click on the image below to see a larger version.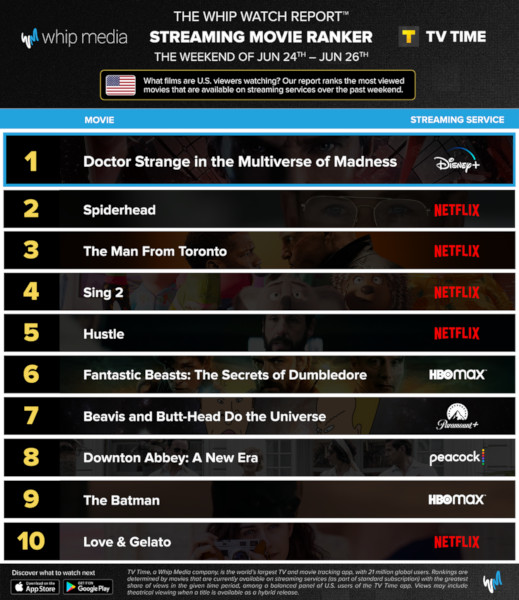 Streaming Originals:
Less movement in the streaming originals chart, with another unsurprising chart topper in The Umbrella Academy - the new season was just released.
"Evil" on Paramount+ was 10th.
"First Kill" and "Ozark" both left the top 10.
Click on the image below to see a larger version.