Binge Report U.S Streaming TV & Movie Charts: Prison & Love Triangles (Week Ending June 19, 2022)
Sean Fang
Fri, 24/06/2022 - 17:45
Welcome to the Binge Report, where we look at the most popular movies and original TV shows that Americans have been streaming in the last week. For those interested in Australian numbers (provided to us by streaming search engine JustWatch), please have a look here. You can read last week's report here.
The TV Time app (iPhone and Android) helps users organise their streaming plans. The data here is tracked from American users of the app and some shows listed are not available in Australia without the use of a suitable VPN.
Movies:
Netflix's Spiderhead topped the streaming movie charts this week - the movie has not been well received by critics, but it seems to be popular with viewers.
The reboot of "Father of the Bride" on HBO Max, in 5th place this week, is either charming or completely unnecessary - only one sure way to find out though.
Also new to the top 10 are "Jerry & Marge Go Large" (Paramount+) in 8th and a return to the top 10 for "Ghostbusters: Afterlife" (STARZ) in 10th.
As a result, "Interceptor", "Sonic the Hedgehog 2", "Senior Year", and "Jurassic Park" all left the top 10.
Click on the image below to see a larger version.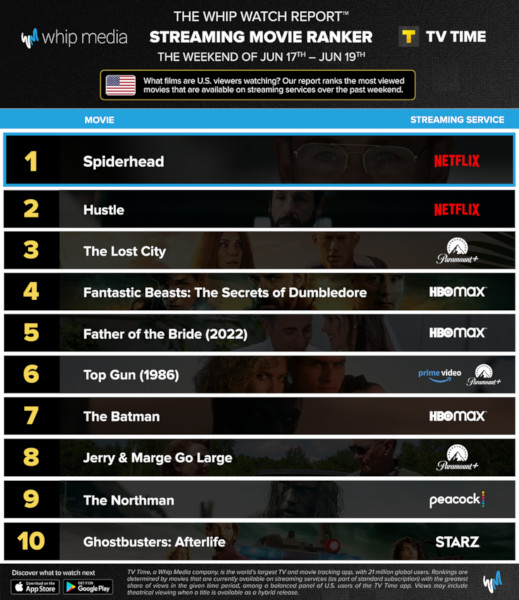 Streaming Originals:
The new season of "Love, Victor" (Hulu) helped it get back into the top 10 at 5th, while newcomer and fellow Hulu show The Summer I Turned Pretty enters the top 10 at 9th.
"Hacks" and "Love, Death & Robots" are out of the top 10.
Click on the image below to see a larger version.