Binge Report U.S Streaming TV & Movie Charts: Fast & Weird (Week Ending May 29, 2022)
Sean Fang
Fri, 03/06/2022 - 16:18
Welcome to the Binge Report, where we look at the most popular movies and original TV shows that Americans have been streaming in the last week. For those interested in Australian numbers (provided to us by streaming search engine JustWatch), please have a look here. You can read last week's report here.
The TV Time app (iPhone and Android) helps users organise their streaming plans. The data here is tracked from American users of the app and some shows listed are not available in Australia without the use of a suitable VPN.
Movies:
"Sonic the Hedgehog 2" (Paramount+) entered the top 10 in second-place, and just failed to beat "Chip 'n Dale: Rescue Rangers". This meant that both of the top two feature Sonic, at least a version of him.
Ricky Gervais' controversial stand-up special Super Nature was 7th, while "Ambulance" (Peacock) in 8th and Jackass 4.5 in 10th rounded off the top 10.
"Our Father", "Firestarter", "Ghostbusters: Afterlife", and "The Valet" all left the top 10.
Click on the image below to see a larger version.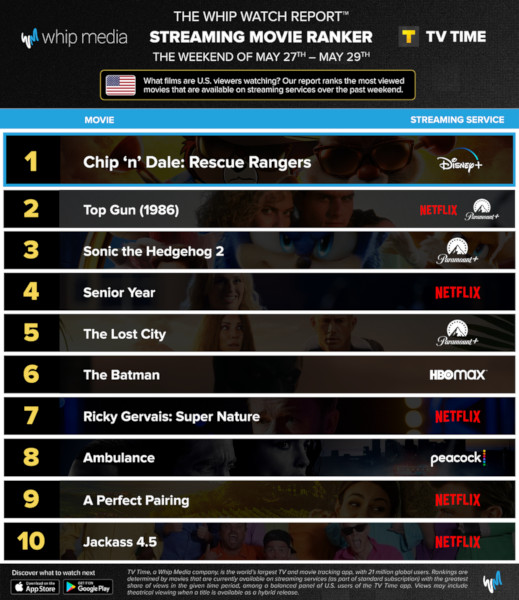 Streaming Originals:
The first part of the final season of Stranger Things helped the show get back into the top 10 in top spot, beating the fan-favourite Obi-Wan Kenobi.
"Young Justice" (HBO Max) was 10th.
Leaving the top 10: "Halo", "Made for Love", and "Candy".
Click on the image below to see a larger version.