Binge Report U.S Streaming TV & Movie Charts: Chipmunks & Robots (Week Ending May 22, 2022)
Sean Fang
Fri, 27/05/2022 - 16:37
Welcome to the Binge Report, where we look at the most popular movies and original TV shows that Americans have been streaming in the last week. For those interested in Australian numbers (provided to us by streaming search engine JustWatch), please have a look here. You can read last week's report here.
The TV Time app (iPhone and Android) helps users organise their streaming plans. The data here is tracked from American users of the app and some shows listed are not available in Australia without the use of a suitable VPN.
Movies:
Disney+'s surprisingly good Chip 'n Dale: Rescue Rangers was the most-streamed movie for the weekending of May 20-22 (the only disappointing thing was that neither of the Sonic movies were also in the top 10 - watch "Chip 'n Dale" and you'll know what I mean).
Netflix's A Perfect Pairing was 4th, with "Ghostbusters: Afterlife" (Starz) making a return at 8th.
Top Gun (also on Paramount+) was 9th for obvious reasons, and "The Valet" (Hulu) was 10th.
Out of the top 10: "Star Wars", "Old", "Death on the Nile", "Eternals", and "Turning Red".
Click on the image below to see a larger version.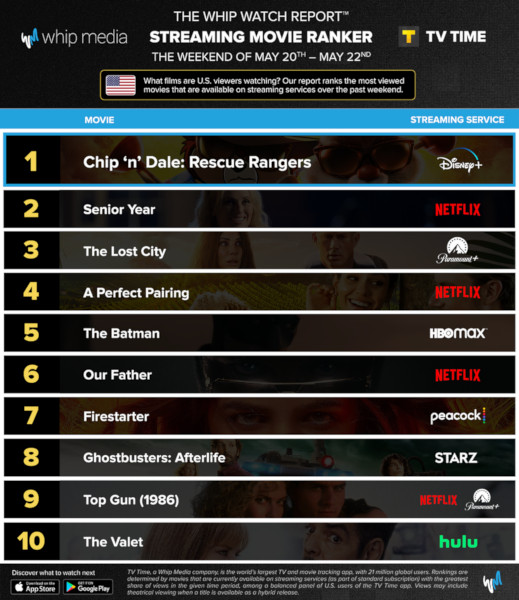 Streaming Originals:
Season 3 of Love, Death & Robots has premiered and many people, like myself, seems to have binged the entire new season of the anthology series in one go.
Netflix's The Lincoln Lawyer, the new TV series, was 6th while "Made for Love" (HBO Max) was 9th thanks to the new season.
Leaving the top 10 this week were the shows "The Wilds", "Moon Knight", and "Outer Range".
Click on the image below to see a larger version.