Top 10 Aussie Streaming Charts: Hello There, and Everywhere (Week Ending 29 May 2022)
Sean Fang
Tue, 31/05/2022 - 14:13
Welcome again to our weekly feature where we look at the most popular streaming movies and TV shows in Australia based on data collected by streaming search engine JustWatch. Data includes subscription streaming as well as transactional streaming titles. Click here to read last week's roundup.
Movies:
The untimely passing of Ray Liotta is probably what's responsible for "GoodFellas" (premium VOD) getting back into the top 10 in second place.
Critically acclaimed surprise hit "Everything Everywhere All at Once" (premium VOD) debuts in the top 10 at third, while No Time to Die returns to the top 10 at 10th thanks to it arriving on Amazon Prime.
"Morbius", "The Lincoln Lawyer", and "Reminiscence" left the top 10 to make room.
Click on the image below to see a larger version.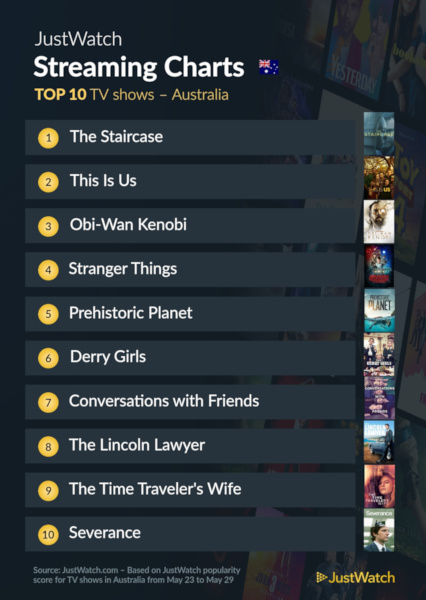 Television:
Obi-Wan Kenobi's debut saw the new Star Wars show reach third place on the streaming TV charts.
The release of the fourth season of Stranger Things saw it get back into the top 10 at 4th.
"Prehistoric Planet" (Apple TV+) debuts in 5th, while "Severance" (Apple TV+) makes a comeback to the top 10, in 10th.
As a result, "The Staircase" (documentary), "We Own This City", "Star Trek: Strange New Worlds", and "Outlander" all left the top 10.
Click on the image below to see a larger version.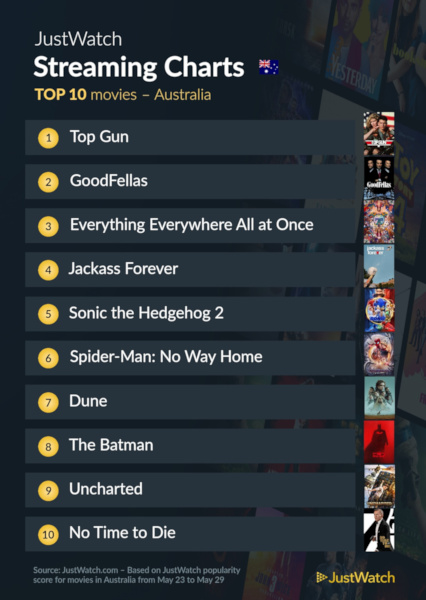 Looking for more content to watch, or looking to see where you can stream that TV or movie you want to watch? JustWatch allows you to easily search for a piece of content and find out how to stream it legally in Australia.