Top 10 Aussie Streaming Charts: Alien Hedgehogs & Lawyers (Week Ending 22 May 2022)
Sean Fang
Wed, 25/05/2022 - 16:55
Welcome again to our weekly feature where we look at the most popular streaming movies and TV shows in Australia based on data collected by streaming search engine JustWatch. Data includes subscription streaming as well as transactional streaming titles. Click here to read last week's roundup.
Movies:
"Sonic the Hedgehog 2" arrives on digital for the first time (via premium VOD platforms), coming in at 5th. Just behind Sonic in 6th was "Morbius", another new release to premium VOD platforms. "Jackass Forever" (yet another premium VOD title) was in 7th.
The Matthew McConaughey film version of The Lincoln Lawyer was in 8th, no doubt as a result of the premiere of the TV series of the same name (see below).
Reminiscence on Binge was 10th.
"No Time to Die", "The Contractor", "Avatar", "Downton Abbey", and "A Simple Favor" all left the top 10 as a result.
Click on the image below to see a larger version.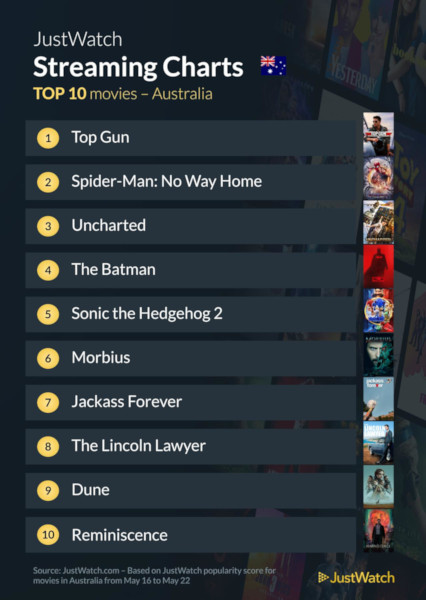 Television:
Conversation with Friends was second on the most-streamed TV show hart, ahead of the new show The Time Traveler's Wife (also on Foxtel Now) - books made into movies then TV shows seems to the be theme this week.
Derry Girls was in 5th, while The Lincoln Lawyer in 6th was the other book turned movie turned TV show.
We Own This City (also on Foxtel Now) was 8th.
Leaving the top 10 this week: "Bosch: Legacy", "Doctor Who", "The Split", "The Offer", and "The Thing About Pam".
Click on the image below to see a larger version.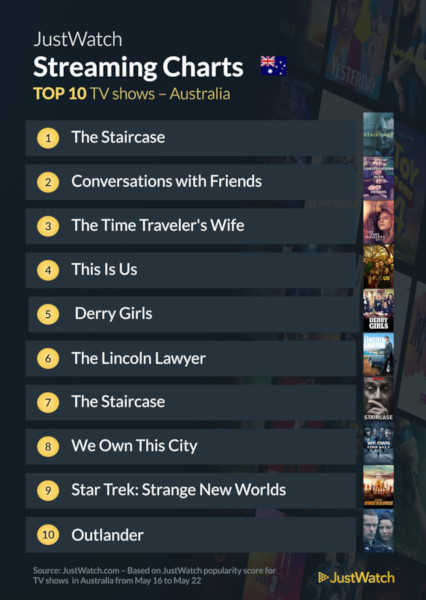 Looking for more content to watch, or looking to see where you can stream that TV or movie you want to watch? JustWatch allows you to easily search for a piece of content and find out how to stream it legally in Australia.