Binge Report U.S Streaming TV & Movie Charts: Star Wars & Trek (Week Ending May 15, 2022)
Sean Fang
Wed, 18/05/2022 - 17:21
Welcome to the Binge Report, where we look at the most popular movies and original TV shows that Americans have been streaming in the last week. For those interested in Australian numbers (provided to us by streaming search engine JustWatch), please have a look here. You can read last week's report here.
The TV Time app (iPhone and Android) helps users organise their streaming plans. The data here is tracked from American users of the app and some shows listed are not available in Australia without the use of a suitable VPN.
Movies:
"The Lost City" debuts on streaming platform Paramount+ and it was the most-streamed movie for the weekend of May 13 to 15.
Rebel Wilson's Netflix comedy Senior Year was second, while the captivating documentary Our Father was in 3rd.
Star Wars Day inspired many to re-watch the original Star Wars (4th) on Disney+, while another recent movie, "Firestarter", debuts on Peacock and was 5th. "Old" (HBO Max) returns to the top 10 in 7th.
"365 Days: This Day", "Along For The Ride", "Venom: Let There Be Carnage", "The Adam Project", "Doctor Strange", and "Encanto" all left the top 10 to make room.
Click on the image below to see a larger version.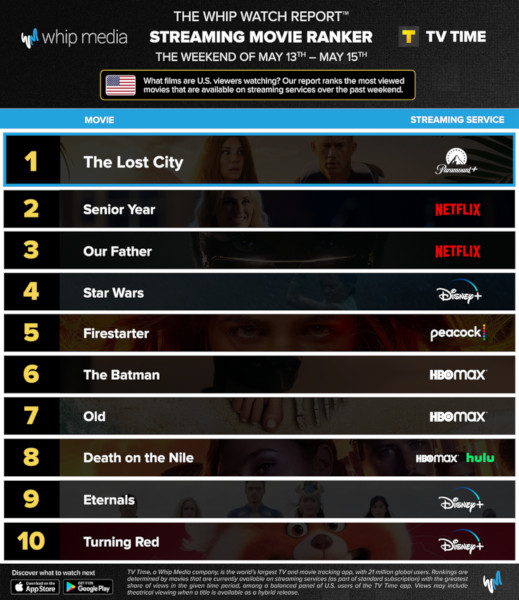 Streaming Originals:
Jessica Biel's true-crime drama miniseries "Candy" debuts on Hulu and on the streaming originals top 10 in 6th place. "Star Trek: Strange New Worlds" (Paramount+) enters the top 10 for the first time in 9th place.
One Star Trek in, one Star Trek out. "Star Trek: Picard" ended its second season and leaves the top 10, along with "Selling Sunset".
Click on the image below to see a larger version.