Top 10 Aussie Streaming Charts: Blue People & Crime Solving (Week Ending 15 May 2022)
Sean Fang
Wed, 18/05/2022 - 16:32
Welcome again to our weekly feature where we look at the most popular streaming movies and TV shows in Australia based on data collected by streaming search engine JustWatch. Data includes subscription streaming as well as transactional streaming titles. Click here to read last week's roundup.
Movies:
Chris Pine's new action flick has headed to Amazon Prime Video and it was the most popular of the new titles to the top 10. The Contractor was 7th, just ahead of Avatar in 8th. The mega-hit involving very blue people was back in the top 10 thanks to the release of the first ever trailer for the sequel coming later this year.
"A Simple Favor" (Binge, Foxtel Now) was 10th.
"The Suicide Squad", "Sing 2", and "Fantastic Beasts: The Crimes of Grindelwald" left the top 10 this week.
Click on the image below to see a larger version.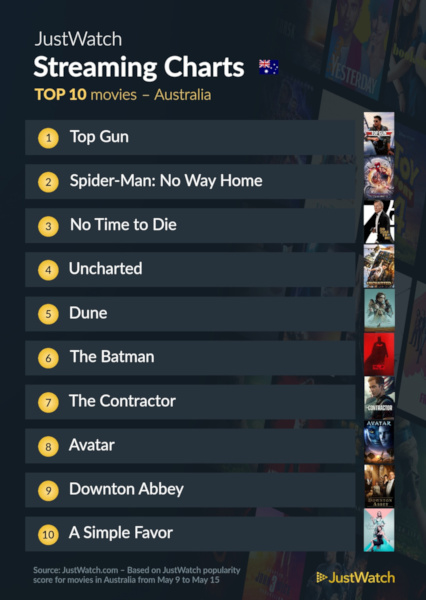 Television:
Bosch is back in Bosch: Legacy, and while season 2 is still not yet available in Australia, many have decided to check out season 1 it seems on Amazon Prime.
Doctor Who (also on BritBox, Foxtel Now) and The Split are both back in the top 10 (in 6th and 7th) after leaving temporarily, while it's a debut for Paramount+'s "The Offer", the show about the making of The Godfather.
These shows left the top 10 as a result: "Heartstopper", "Slow Horses", "We Own This City", and "Shining Girls".
Click on the image below to see a larger version.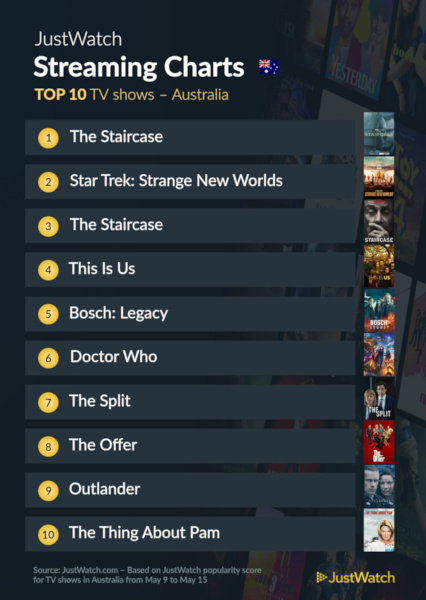 Looking for more content to watch, or looking to see where you can stream that TV or movie you want to watch? JustWatch allows you to easily search for a piece of content and find out how to stream it legally in Australia.