Binge Report U.S Streaming TV & Movie Charts: Game Show & Romance (May 2 - May 8, 2022)
Sean Fang
Wed, 11/05/2022 - 16:27
Welcome to the Binge Report, where we look at the most popular movies and original TV shows that Americans have been streaming in the last week. For those interested in Australian numbers (provided to us by streaming search engine JustWatch), please have a look here. You can read last week's report here.
The TV Time app (iPhone and Android) helps users organise their streaming plans. The data here is tracked from American users of the app and some shows listed are not available in Australia without the use of a suitable VPN.
Movies:
A new season of the US version of The Circle helped the show get back into the top 10, at 7th.
A new season of the Amazon Prime original The Wilds did the same, with the show coming in at 8th. The show kind of got lost among the plaudits for the similar (but not really) "Yellowjackets", but if you like a mystery box show about people lost on an island not called "Lost", then check this one out.
"Russian Doll" and "Bridgerton" left the top 10.
Click on the image below to see a larger version.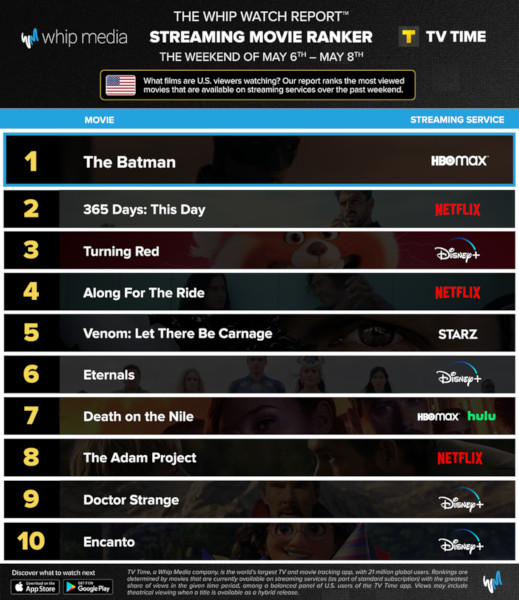 Streaming Originals:
Netflix's new original film Along for the Ride was 4th in the top 10 this week. "Venom: Let There Be Carnage" arrived on Starz and was 5th.
Eternals got back into the top 10 at 6th, while the theatrical debut of "Doctor Strange in the Multiverse of Madness" helped Doctor Strange get back in at 9th - we got invited by Disney to the preview of the new movie and we had some random thoughts on it":
Just came back from the Disney special preview of #DoctorStrange in the Multiverse of Madness (thanks again Disney and @streambly for the invite), gonna post some random thoughts in this thread. No spoilers (at least none with context ?) ... pic.twitter.com/54jwUyolU4

— Digital Digest (@ddigest) May 3, 2022
"Crush", "Bubble", "X-Men: Days of Futures Past", and "365 Days" all left the top 10.
Click on the image below to see a larger version.