Binge Report U.S Streaming TV & Movie Charts: Polish Drama & Money Laundering (April 25 - May 1, 2022)
Sean Fang
Wed, 04/05/2022 - 18:00
Welcome to the Binge Report, where we take a look at the most popular movies and original TV shows that Americans have been streaming in the last week. For those interested in Australian numbers (provided to us by streaming search engine JustWatch), please have a look here. You can read last week's report here.
The TV Time app (iPhone and Android) helps users organise their streaming plans. The data here is tracked from American users of the app and some shows listed are not available in Australia without the use of a suitable VPN.
Movies:
Critically panned Polish Drama 365 Days (10th this week) now has an equally panned sequel, 365 Days: This Day, which was the second on the top 10.
"Crush" (Hulu) was in third, and Bubble was in 7th.
X-Men: Days of Futures Past and Encanto were 8th and 9th respectively.
With so many titles coming in, many had to leave. "Choose or Die", "The In Between", "Venom: Let There Be Carnage", "Metal Lords", "Eternals", and "X-Men: First Class" all left the top 10.
Click on the image below to see a larger version.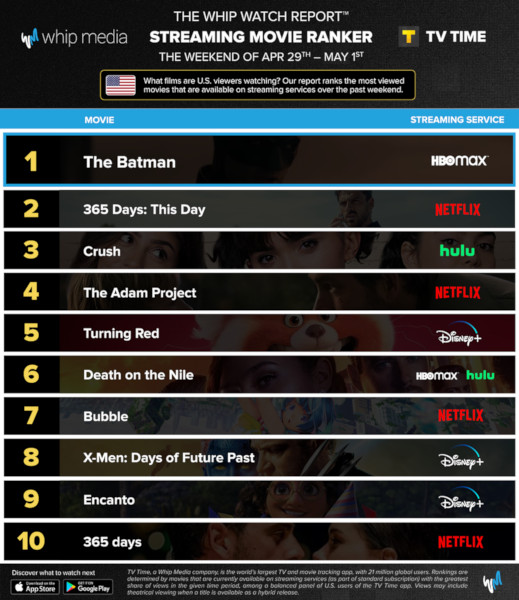 Streaming Originals:
Somewhat quieter when it comes to original series. Netflix shows Ozark and Grace and Frankie both rejoined the top 10, in second and fifth respectively.
Two Netflix shows, "Bridgerton" and "The Ultimatum: Marry or Move On" both left.
Click on the image below to see a larger version.