Binge Report U.S Streaming TV & Movie Charts: Dark and Moon Knights (April 18 - April 24, 2022)
Sean Fang
Wed, 27/04/2022 - 17:42
Welcome to the Binge Report, where we take a look at the most popular movies and original TV shows that Americans have been streaming in the last week. For those interested in Australian numbers (provided to us by streaming search engine JustWatch), please have a look here. You can read last week's report here.
The TV Time app (iPhone and Android) helps users organise their streaming plans. The data here is tracked from American users of the app and some shows listed are not available in Australia without the use of a suitable VPN.
Movies:
"The Batman" topped the streaming movie charts for the weekend after its release on HBO Max.
Further down in 6th place was the next new entry to the top 10, "The In Between" (Paramount+). "Venom: Let There Be Carnage" (Starz) was in 7th, Eternals is back in the top 10 at 9th and X-Men: First Class is back in 10th.
"Fantastic Beasts and Where to Find Them", "Fantastic Beasts: The Crimes of Grindelwald", "Encanto", "Free Guy", and "The Bubble" all left the top 10.
Click on the image below to see a larger version.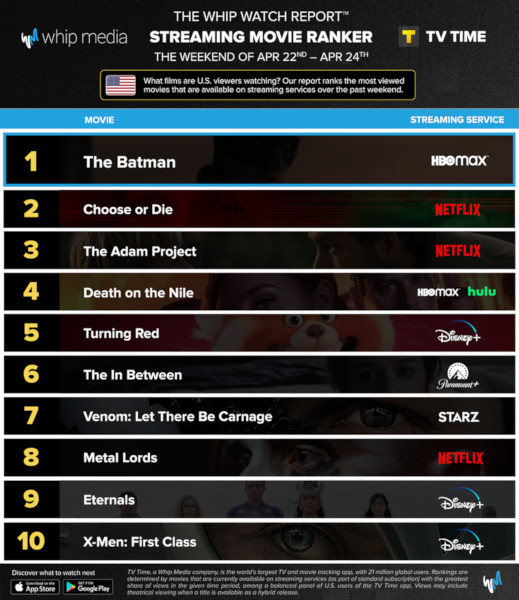 Streaming Originals:
The second season premiere of Russian Doll helped it finish second in the streaming original charts.
Kaley Cuoco's new show on HBO Max, "The Flight Attendant", got off to a good start in third.
The new season of Selling Sunset helped it get back in the top 10 at 7th, and new Netflix show Heartstopper got in at 8th.
Amazon Prime Video's new mystery-box series Outer Range makes a debut in 9th.
Making room for the above were the shows "Severance", "Elite", "Minx", "Young Justice", and "The Girl from Plainville".
Click on the image below to see a larger version.