Binge Report U.S Streaming TV & Movie Charts: All the Old Knives and Texts (April 4 - April 10, 2022)
Sean Fang
Thu, 14/04/2022 - 16:07
Welcome to the Binge Report, where we take a look at the most popular movies and original TV shows that Americans have been streaming in the last week. For those interested in Australian numbers (provided to us by streaming search engine JustWatch), please have a look here. You can read last week's report here.
The TV Time app (iPhone and Android) helps users organise their streaming plans. The data here is tracked from American users of the app and some shows listed are not available in Australia without the use of a suitable VPN.
Movies:
Free Guy (also on HBO Max) is back in the top 10 in 6th place, but in terms of new stuff to the top 10, we have All the Old Knives in 7th, "Scream" (Paramount+) in 8th, and Metal Lords in 9th.
"Moonshot", "Jackass Forever", "CODA", and "Deep Water" all left the top 10.
Click on the image below to see a larger version.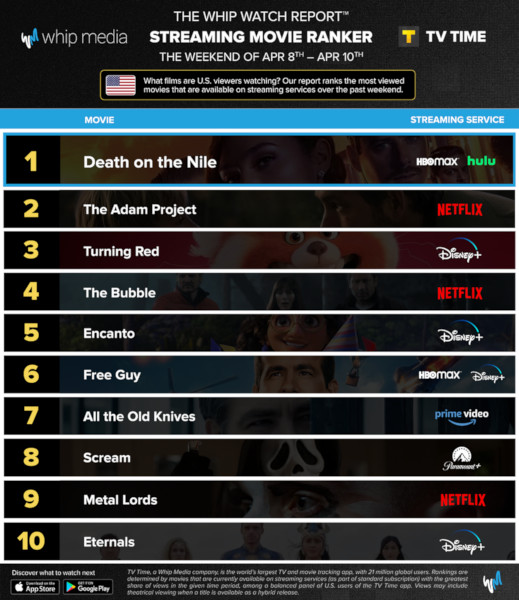 Streaming Originals:
Netflix's reality show The Ultimatum: Marry or Move On debuts in 7th place, while the infamous "texting suicide case" is examined in "The Girl from Plainville" (Hulu).
Leaving the top 10 to make room were the shows "The Last Kingdom" and "Bel-Air".
Click on the image below to see a larger version.