Binge Report U.S Streaming TV & Movie Charts: Moonshot and Moon Knight (March 28 - April 3, 2022)
Sean Fang
Wed, 06/04/2022 - 18:07
Welcome to the Binge Report, where we take a look at the most popular movies and original TV shows that Americans have been streaming in the last week. For those interested in Australian numbers (provided to us by streaming search engine JustWatch), please have a look here. You can read last week's report here.
The TV Time app (iPhone and Android) helps users organise their streaming plans. The data here is tracked from American users of the app and some shows listed are not available in Australia without the use of a suitable VPN.
Movies:
Just like with the Aussie version of this chart, "Death on the Nile" (HBO Max, Hulu) was the most popular new entry in the streaming movies chart for the first weekend of April. Unlike the Aussie charts, "Death on the Nile" was the most-streamed movie for the week.
Netflix's The Bubble was in 4th, while "Moonshot" (HBO Max) was in 5th. Eternals make a return to the top 10 in 7th, while the Best Picture win for Apple TV+'s "CODA" helped the show get into the top 10.
Leaving the top 10 were the movies "Dune: Part One", "West Side Story", "Don't Look Up", "King Richard", and "Olivia Rodrigo: driving home 2 u".
Click on the image below to see a larger version.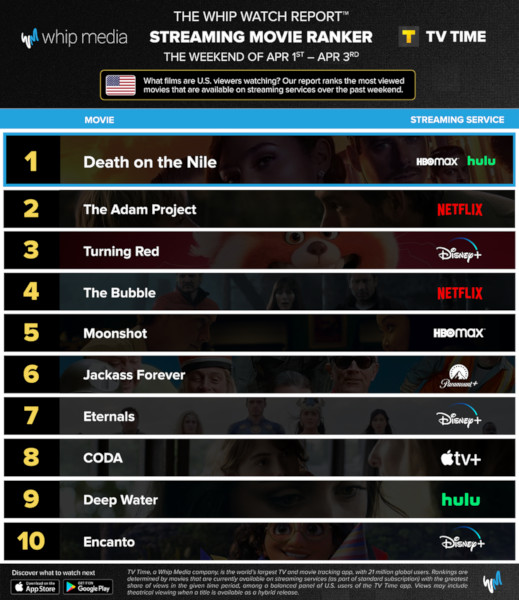 Streaming Originals:
The premiere of Moon Knight saw the new Disney+ Marvel show get to a high second-place finish in this week's top 10. Paramount+'s "Halo" enters the top 10 for the first time, in 3rd place.
Also new to the top 10 were the shows "Young Justice" (HBO Max) in 7th, and "Bel-Air" (Peacock) in 10th (some tenuous links to that whole Will Smith drama).
Making room for the new entries were the shows "Human Resources", "Our Flag Means Death", "Life & Beth", and "The Marvelous Mrs. Maisel".
Click on the image below to see a larger version.