Binge Report U.S Streaming TV & Movie Charts: Fatal Dysfunction & Severed Realities (March 14 - March 20, 2022)
Sean Fang
Wed, 23/03/2022 - 16:41
Welcome to the Binge Report, where we take a look at the most popular movies and original TV shows that Americans have been streaming in the last week. For those interested in Australian numbers (provided to us by streaming search engine JustWatch), please have a look here. You can read last week's report here.
The TV Time app (iPhone and Android) helps users organise their streaming plans. The data here is tracked from American users of the app and some shows listed are not available in Australia without the use of a suitable VPN.
Movies:
Ben Affleck and Ana de Armas's sexy/deadly thriller Deep Water was the most popular new entry in the top 10 for the week, coming in at third.
Disney+'s remake of Cheaper by the Dozen, in 5th, was the next new entry. Netflix's Rescued by Ruby was in 9th.
With three titles coming in, three titles, "The King's Man", "Fresh", and "The Weekend Away", had to leave.
Click on the image below to see a larger version.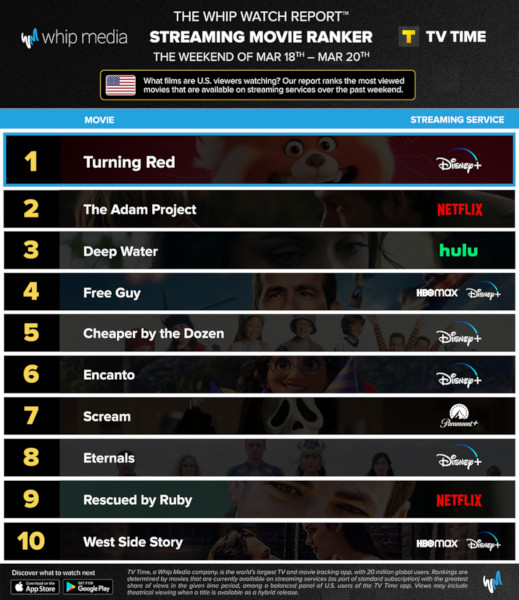 Streaming Originals:
HBO Max's sci-fi series "Raised by Wolves", currently in the middle of its second season, finally penetrates the streaming originals top 10, coming in at 7th.
Apple TV+'s sci-fi series "Severance" is also gathering a bit of hype, and it too enters the top 10 for the first time in the 8th spot.
"Our Flag Means Deaths" (HBO Max) was in 9th, and the generally excellent "The Dropout" (Hulu) was in 10th.
All four new entries this week have already graced the Aussie version of these charts, but I guess the greater competition in the U.S. marketplace meant that it took a bit longer for these to start getting into the top 10.
"Pam & Tommy", "The Boys Presents: Diabolical", "Love Is Blind", and "Pieces of Her" all left the top 10.
Click on the image below to see a larger version.