Top 10 Aussie Streaming Charts: New Musicals & New Seasons (Week Ending 6 March 2022)
Sean Fang
Tue, 08/03/2022 - 15:54
Welcome again to our weekly feature where we look at the most popular streaming movies and TV shows in Australia based on data collected by streaming search engine JustWatch. Data includes subscription streaming as well as transactional streaming titles. Click here to read last week's roundup.
Movies:
Steven Spielberg's epic musical remake West Side Story arrives on Disney+ and jumps straight to 5th place on the movie streaming chart.
20th Century Studio's new movie Fresh also arrives on Disney+, in 7th place.
"House of Gucci" and "King Richard", in 8th and 9th, both arrive for the first time on premium VOD, while an oldie but goodie The Dark Knight (Paramount+, Foxtel Now) is in 10th, very likely due to increasing interests in all things Batman thanks to the new Robert Pattinson movie.
A big list of movies left the top 10 as a result: "Spencer", "Hitman's Wife's Bodyguard", "The French Dispatch", "Space Jam: A New Legacy", and "No Time To Die".
Click on the image below to see a larger version.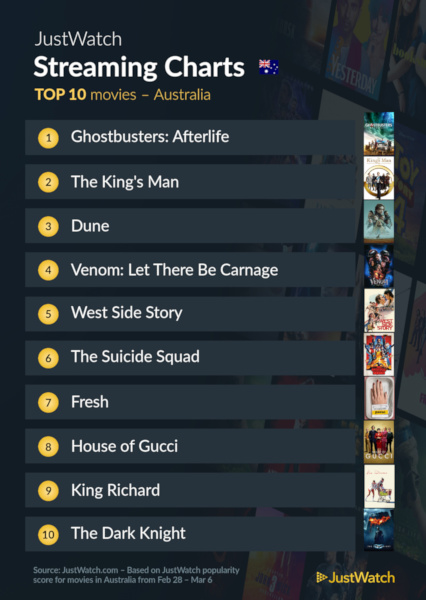 Television:
A new season of Peaky Blinders is just around the corner and the "reminder" binge is on, propelling the show back into the top 10 at second place.
Over on Binge, the period comedy series "Our Flag Means Death" (Binge), which also stars a hilarious Taika Waititi, debuts in the top 10 at 3rd place.
Similarly to "Peaky Blinders", a new season of Outlander is also just around the corner, and it too jumps back into the top 10, at 4th.
The second season of Star Trek: Picard has got off to an exciting start, and also a good start on the top 10, in 5th place.
Over on Netflix, the original series Pieces of Her is getting some attention, at 6th place, while Reacher has been on the US version of this chart for a while now, but I think this is the first time is has broken through to the Australian chart.
And finally, "Better Things" (Foxtel Now) is also just about to get a new season, and it's in 10th this week.
An even bigger exodus list for streaming originals this week: "This Is Us", "Vikings: Valhalla", "Yellowjackets", "Station Eleven", "Pam & Tommy", "The Walking Dead" and "Arthur".
Click on the image below to see a larger version.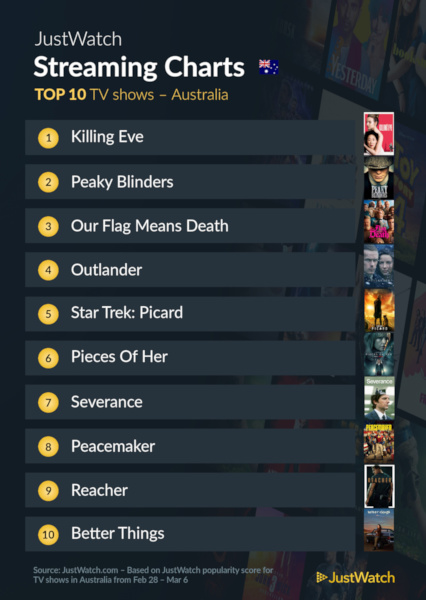 Looking for more content to watch, or looking to see where you can stream that TV or movie you want to watch? JustWatch allows you to easily search for a piece of content and find out how to stream it legally in Australia.