Top 10 Aussie Streaming Charts: World At War & Vikings (Week Ending 27 February 2022)
Sean Fang
Tue, 01/03/2022 - 16:24
Welcome again to our weekly feature where we look at the most popular streaming movies and TV shows in Australia based on data collected by streaming search engine JustWatch. Data includes subscription streaming as well as transactional streaming titles. Click here to read last week's roundup.
Movies:
20th Studio's The King's Man arrives on subscription streaming on parent studio Disney's Disney+ platform, and was the most-streamed movie for the week ending 27 February.
Hitman's Wife's Bodyguard hits Amazon Prime, and as a result, it gets back in to the top 10 in 7th.
There is also a return to the top 10 for The French Dispatch, "Space Jam: A New Legacy" (Premium VOD), and "No Time to Die" (Premium VOD), in 8th, 9th and 10th respectively.
"A Quiet Place Part II", "Kimi", "Cool Runnings", "Murder on the Orient Express", and "The Tragedy of Macbeth" all left the top 10.
Click on the image below to see a larger version.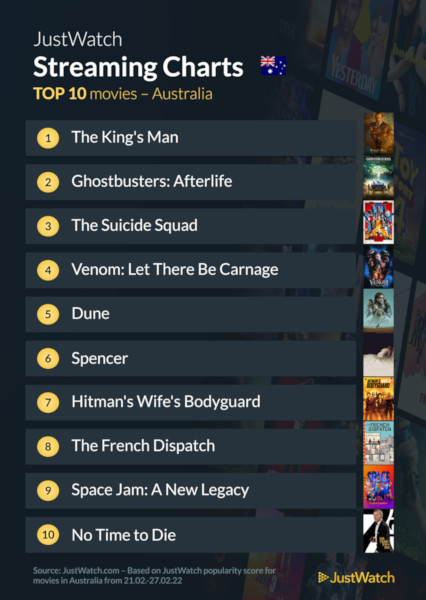 Television:
Netflix's new "Vikings" sequel series Vikings: Valhalla enters the top 10 in 5th.
The mid-season return of "The Walking Dead" (Binge, Foxtel Now) also helped to show get back into the top 10, at 9th. Classic kid's animated show Arthur (Binge, Foxtel Now) was 10th.
As a result, "La Brea", "Law & Order: SVU", and "Line of Duty" all left the top 10.
Click on the image below to see a larger version.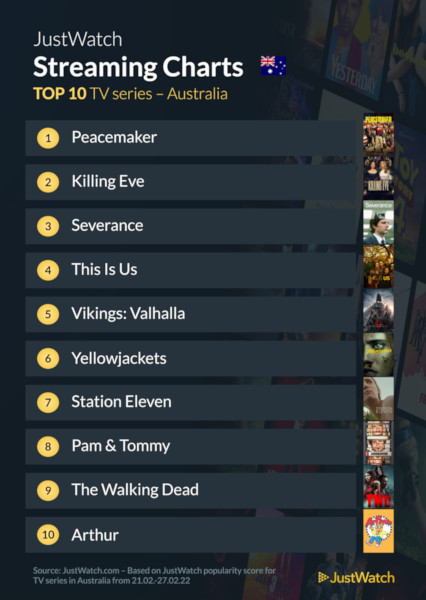 Looking for more content to watch, or looking to see where you can stream that TV or movie you want to watch? JustWatch allows you to easily search for a piece of content and find out how to stream it legally in Australia.