Top 10 Aussie Streaming Charts: Ghosts and Mystery (Week Ending 20 February 2022)
Sean Fang
Tue, 22/02/2022 - 16:23
Welcome again to our weekly feature where we look at the most popular streaming movies and TV shows in Australia based on data collected by streaming search engine JustWatch. Data includes subscription streaming as well as transactional streaming titles. Click here to read last week's roundup.
Movies:
The release of "Ghostbusters: Afterlife" on premium VOD platforms helped the movie top the streaming movies chart for the week ending 20 February, 2022.
The release of Oscar contender Spencer over on Amazon Prime Video also saw it debut in the top 10 at 5th place.
"A Quiet Place Part II" (Paramount+, Binge, Foxtel Now) return to the top 10 at 6th, while the Winter Olympics means people are finding and streaming the classic movie Cool Runnings again (and yes, Jamaica still has a bobsled team, even if they came last this time around).
"The Power of the Dog", "The French Dispatch", "CODA", and "Those Who Wish Me Dead" left the top 10 to make room for the above.
Click on the image below to see a larger version.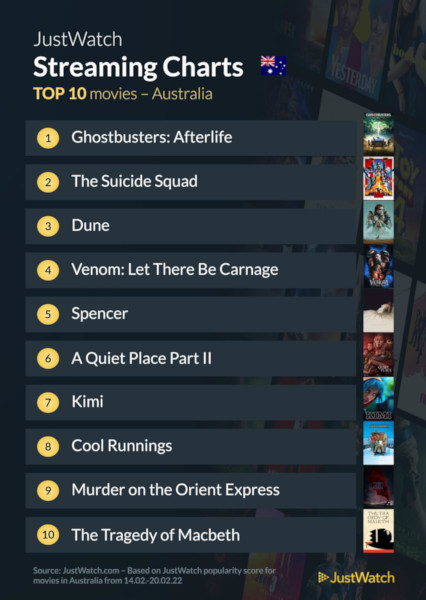 Television:
It's not always streaming exclusives that get in the top 10. NBC's "La Brae" is currently broadcasting on Channel 9 as well as streamble on 9Now, and it was the second most-watched show for this week. The same was true for "Law & Order: Special Victims Unit" in 6th - the free-to-air favourite is also available to stream on Amazon Prime Video, Binge and Foxtel Now (although not all of these have all the seasons, or the latest season).
On the other hand, streaming exclusives like "Severance" is what's usually in the top 10 these days. The Apple TV+ sci-fi mystery comes highly recommended from yours truly - another quality sci-fi show from the Apple stable.
"Euphoria", "Raised by Wolves", and "The Woman in the House Across the Street from the Girl in the Window" all left the top 10.
Click on the image below to see a larger version.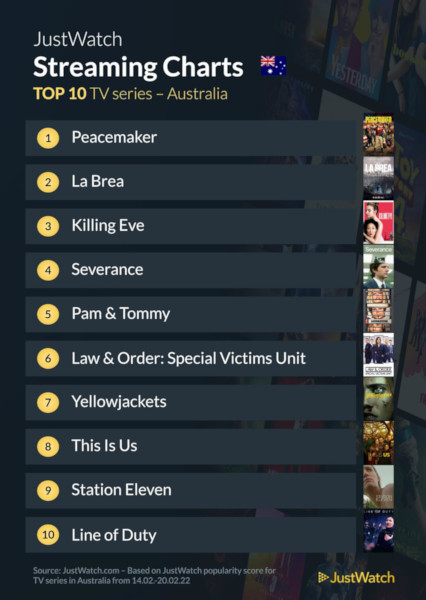 Looking for more content to watch, or looking to see where you can stream that TV or movie you want to watch? JustWatch allows you to easily search for a piece of content and find out how to stream it legally in Australia.