Top 10 Aussie Streaming Charts: Oscar Buzz (Week Ending 13 February 2022)
Sean Fang
Tue, 15/02/2022 - 15:56
Welcome again to our weekly feature where we look at the most popular streaming movies and TV shows in Australia based on data collected by streaming search engine JustWatch. Data includes subscription streaming as well as transactional streaming titles. Click here to read last week's roundup.
Movies:
Some wholesale changes to the top 10, with six new entries. Oscar buzz has probably helped The Power of the Dog return to the top 10 in a high second place. The film has received no less than 12 Oscar nominations, including Best Picture, and I suppose this has helped to convince some that they really need to watch the film. And you should too, it's brilliantly made.
Similarly, Apple TV+'s "CODA", receiving 3 nominations, is also back in the top 10, in 5th place.
Those Who Wish Me Dead has just arrived on Netflix, and the thriller starring Angelina Jolie is a recent, and decent, enough movie to get into the top 10, at 7th.
"The Tragedy of Macbeth" (Apple TV+), in 8th place, returns to the top 10 after only leaving it last week.
"Kimi" (Binge) was in 9th, while Murder on the Orient Express is back in the top 10 at 10th, most likely due to its sequel "Death on the Nile" being released in cinemas last week.
Six in, so it means six out, and they were "Eddie the Eagle", "Sing", "No Time to Die", "Encanto", "The Last Duel", and "The Matrix Resurrections".
Click on the image below to see a larger version.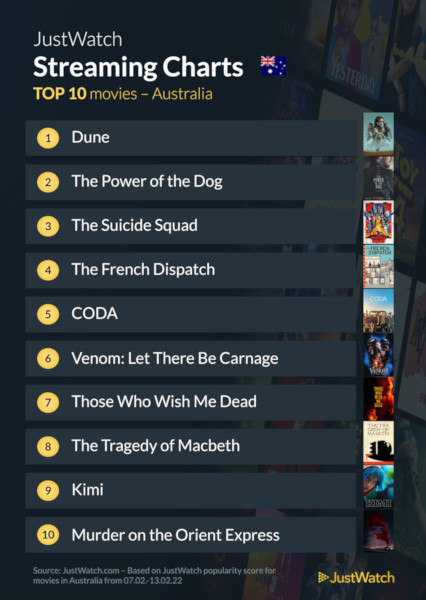 Television:
Not as many changes on the television charts. "Euphoria" (Binge/Foxtel Now) came in at 4th, while the fourth season of "Killing Eve" has yet to find an Australian platform, you can stream the first 3 seasons on Stan.
"Resident Alien" and "The Afterparty" left the top 10.
Click on the image below to see a larger version.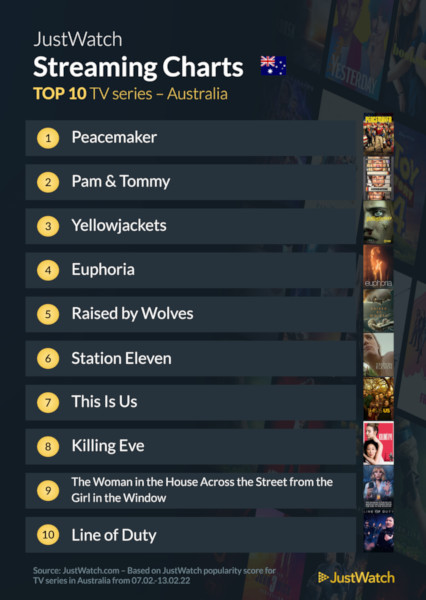 Looking for more content to watch, or looking to see where you can stream that TV or movie you want to watch? JustWatch allows you to easily search for a piece of content and find out how to stream it legally in Australia.