Binge Report U.S Streaming TV & Movie Charts: Valentine's Day Rom-Coms (February 7 - February 13, 2022)
Sean Fang
Thu, 17/02/2022 - 17:21
Welcome to the Binge Report, where we take a look at the most popular movies and original TV shows that Americans have been streaming in the last week. For those interested in Australian numbers (provided to us by streaming search engine JustWatch), please have a look here. You can read last week's report here.
The TV Time app (iPhone and Android) helps users organise their streaming plans. The data here is tracked from American users of the app and some shows listed are not available in Australia without the use of a suitable VPN.
Movies:
J.Lo and Owen Wilson's romantic comedy film, "Marry Me", premiered on streaming platform Peacock and shot to the top of the movies chart for the weekend of Feb 11 to 13. Just in time for Valentine's Day.
Over on Amazon Prime Video, another "Rom-Com" also did well, I Want You Back coming in at 4th.
Tall Girl 2 on Netflix was fifth, followed by "KIMI" (HBO Max) in 7th and Oscar Best Picture nominee "Spencer" (Hulu) in 10th.
This meant that "Home Team", "Through My Window", "Shang-Chi and the Legend of the Ten Rings", "The Fallout", and "The Ice Age Adventures of Buck Wild" all had to leave the top 10.
Click on the image below to see a larger version.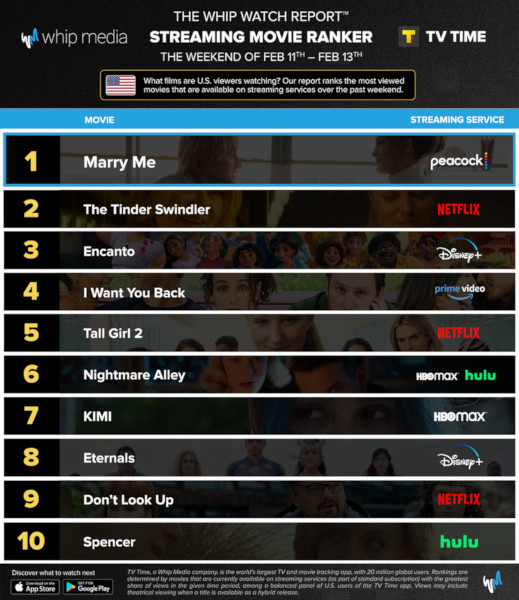 Streaming Originals:
The season 4 premiere of Disenchantment helped it to get back to the top 10 in 6th place.
"1883" (Paramount+) returns again to the top 10 in 9th, and a new season of "Dollface" on Hulu helped it get a 10th place finish.
"Raising Dion", "All of Us Are Dead", and "Pam & Tommy" all left the top 10.
Click on the image below to see a larger version.