Binge Report U.S Streaming TV & Movie Charts: Conman & Zombies (January 31 - February 6, 2022)
Sean Fang
Wed, 09/02/2022 - 16:24
Welcome to the Binge Report, where we take a look at the most popular movies and original TV shows that Americans have been streaming in the last week. For those interested in Australian numbers (provided to us by streaming search engine JustWatch), please have a look here. You can read last week's report here.
The TV Time app (iPhone and Android) helps users organise their streaming plans. The data here is tracked from American users of the app and some shows listed are not available in Australia without the use of a suitable VPN.
Movies:
The Netflix documentary series The Tinder Swindler was one of our picks when we previewed February's offerings, and it looks like we were right - the documentary about a notorious conman has really grabbed people's attention, coming in at top spot, in a well-made documentary film.
"Nightmare Alley" is releasing on both HBO Max and Hulu at the same time (Hulu we can understand, since this is a Searchlight film and Disney owns both this studio and Hulu) and it comes third in the chart.
Netflix's Spanish teen romance Through My Window was also new to the top 10, at 7th.
"The Royal Treatment", "Hotel Transylvania: Transformia", and "Nobody" all left the top 10.
Click on the image below to see a larger version.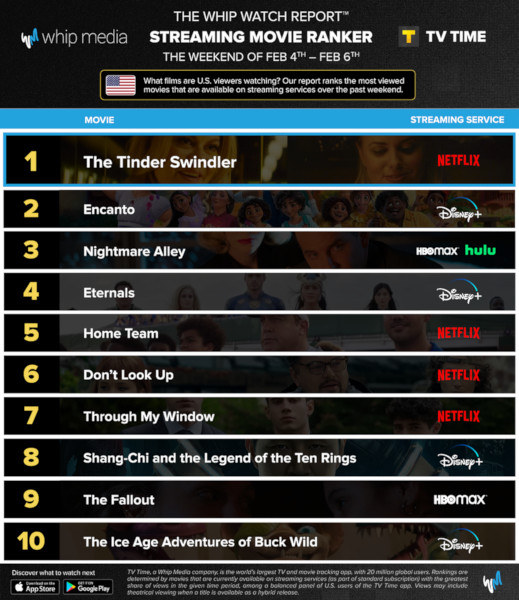 Streaming Originals:
Season 2 of Raising Dion helped the show return to the top 10 in 5th place. Amazon Prime Video's new Jack Reacher series Reacher debuts at 6th, which isn't too bad.
Sweet Magnolias is also enjoying a rebirth in the top 10 due to its second season release - it came 7th.
I'm thoroughly enjoying South Korea's All of Us Are Dead on Netflix at the moment, which was 9th on the top 10, so while this probably won't have the staying power of Squid Game, but it's still a quality zombie drama, even if it may be a little bit too YA for some (despite the violence).
And finally in 10th spot was "Pam & Tommy", the Hulu drama about that infamous sex tape.
"Cobra Kai", "Archive 81", "And Just Like That", "Too Hot to Handle", and "The Witcher" all left the top 10 to make room.
Click on the image below to see a larger version.