Top 10 Aussie Streaming Charts: Last Christmas, This Christmas (Week Ending 19 December 2021)
Sean Fang
Tue, 21/12/2021 - 18:11
Welcome again to our weekly feature where we look at the most popular streaming movies and TV shows in Australia based on data collected by streaming search engine JustWatch. Data includes subscription streaming as well as transactional streaming titles. Click here to read last week's roundup.
Movies:
Can't believe it's already been two years since "Last Christmas" (premium VOD) was released in cinemas, and that was the last Christmas untainted by the pandemic as well. Even if it wasn't a box office hit, this is the kind of movie that will come back to the top 10 every year around this time, just like this week, where it entered the top 10 at 6th.
The Amazing Spider-Man was also new to the top 10, in 10th.
"Elf" and "The Power of the Dog" left the top 10.
Click on the image below to see a larger version.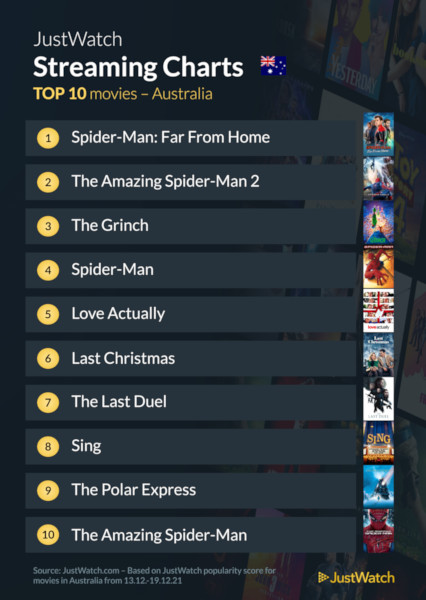 Television:
The new season of the The Witcher allowed it to get back into the top 10 at 4th place, while "Ted Lasso" (Apple TV+) makes a return to the top 10 in 7th (I wonder if it's because of that Christmas episode).
Leaving the top 10: "The Beatles: Get Back" and "Yellowstone"
Click on the image below to see a larger version.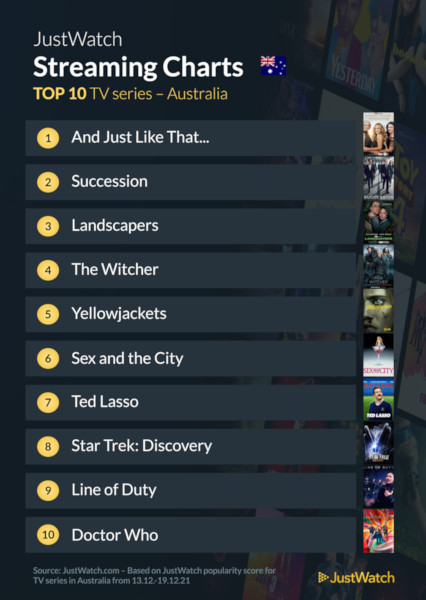 Looking for more content to watch, or looking to see where you can stream that TV or movie you want to watch? JustWatch allows you to easily search for a piece of content and find out how to stream it legally in Australia.