Top 10 Aussie Streaming Charts: Ridley Scott Epic Rises (Week Ending 12 December 2021)
Sean Fang
Tue, 14/12/2021 - 14:42
Welcome again to our weekly feature where we look at the most popular streaming movies and TV shows in Australia based on data collected by streaming search engine JustWatch. Data includes subscription streaming as well as transactional streaming titles. Click here to read last week's roundup.
Movies:
Ridley Scott's new epic probably could have done better at the box office if it wasn't for the pandemic, but we are the lucky ones, or rather, Disney+ subscribers are the lucky ones and we get to stream the movie, The Last Duel, right now. It came in third place on the top 10 charts.
"Sing" (Binge/Foxtel Now) is back in the top 10 (at 10th), probably thanks to the release of the new trailer for "Sing 2".
"Happiest Season" and "The Suicide Squad" both left the top 10.
Click on the image below to see a larger version.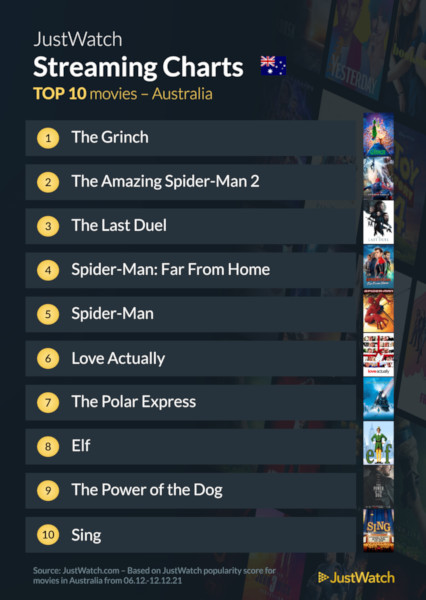 Television:
The "Sex and the City" sequel series "And Just Like That" (Binge) is this week's most-streamed series, with the original Sex and the City (Binge/Foxtel Now) also coming in at 4th.
In second-place was the true crime drama/comedy series Landscapers.
Line of Duty is back in the top 10, and this ubiquitous show is also available on BritBox, Stan, Foxtel Now, and Acorn TV. And finally, Yellowstone is back in the top 10, at 10th.
Making room for the new entries and leaving the top 10 were the shows "It's Always Sunny in Philadelphia", "Buffy the Vampire Slayer", "Lost in Space", "The Great", and "Grey's Anatomy".
Click on the image below to see a larger version.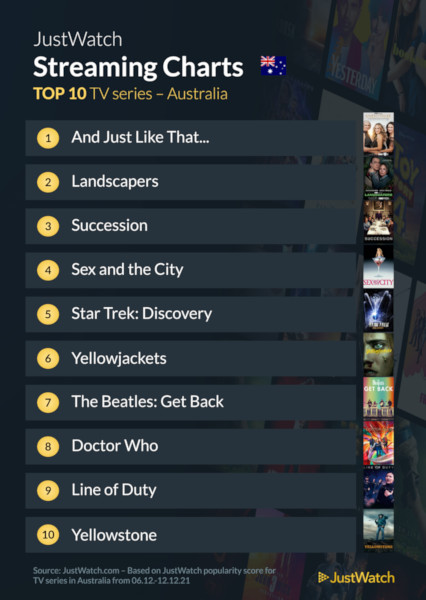 Looking for more content to watch, or looking to see where you can stream that TV or movie you want to watch? JustWatch allows you to easily search for a piece of content and find out how to stream it legally in Australia.