Top 10 Aussie Streaming Charts: Jane Campion's Oscar Favourite Debuts (Week Ending 5 December 2021)
Sean Fang
Tue, 07/12/2021 - 17:01
Welcome again to our weekly feature where we look at the most popular streaming movies and TV shows in Australia based on data collected by streaming search engine JustWatch. Data includes subscription streaming as well as transactional streaming titles. Click here to read last week's roundup.
Movies:
Jane Campion's The Power of the Dog, the Netflix original film that has received quite a bit of award season buzz, is this week's top-ranked new entry into the top 10, coming in at 5th.
The rest of the new entries were all Christmas movies, including "The Polar Express" (Premium VOD) in 6th, Elf in 8th (and just like "Love Actually", it's available not just on Netflix but on almost all of the streaming platforms, including Binge, Paramount+, Foxtel Now, and Stan), and Happiest Season (Foxtel Now).
As required, "Venom", "Spectre", "Casino Royale", and "Red Notice" had to leave the top 10 to make room.
Click on the image below to see a larger version.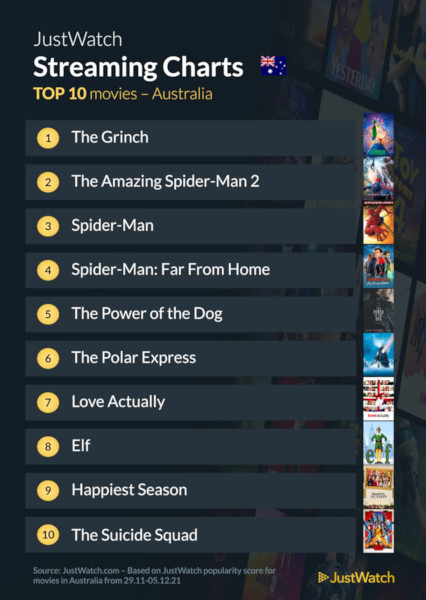 Television:
In television, "It's Always Sunny in Philadelphia" re-enters the top 10 at a high second place due to the new season of the very funny comedy show. Unfortunately, it seems the new season isn't yet available on any streaming platform in Australia yet, nor are the older seasons on anything other than premium VOD at the moment.
Peter Jackson's critically acclaimed The Beatles: Get Back documentary rides high in third place, while a new season of Netflix's Lost in Space sees it finish in 6th.
"Hawkeye", "Shetland", and "Dexter" all left the top 10.
Click on the image below to see a larger version.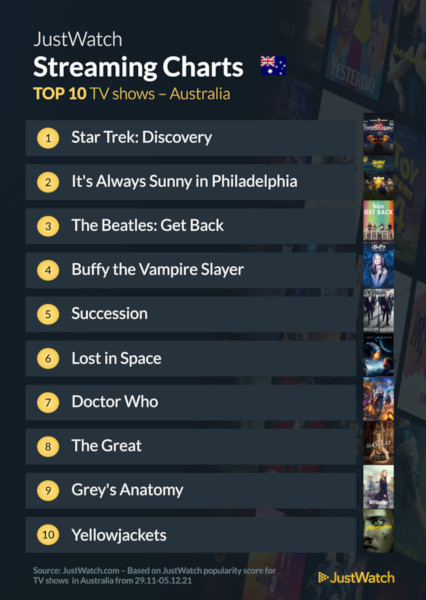 Looking for more content to watch, or looking to see where you can stream that TV or movie you want to watch? JustWatch allows you to easily search for a piece of content and find out how to stream it legally in Australia.