Top 10 Aussie Streaming Charts: Grey's Anatomy On Top (Week Ending 28 November 2021)
Sean Fang
Tue, 30/11/2021 - 16:33
Welcome again to our weekly feature where we look at the most popular streaming movies and TV shows in Australia based on data collected by streaming search engine JustWatch. Data includes subscription streaming as well as transactional streaming titles. Click here to read last week's roundup.
Movies:
I can only imagine that the Spider-Man related hoopla has somehow found its way to Venom, which was the highest-ranked new entry into the top 10 (at second place).
Being Christmas and all, Love Actually appearing again in the top 10 isn't too surprising (neither is the fact that it's available on nearly all the streaming platforms, including Stan, Binge, Foxtel Now).
Surprisingly, "Shang-Chi and The Legend of The Ten Rings" left the top 10 - I would have thought it would have had a bit more leg. "Space Jam: A New Legacy" also left.
Click on the image below to see a larger version.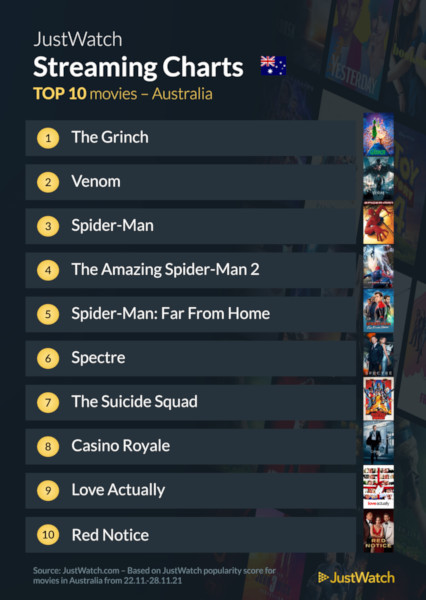 Television:
Season 18 of Grey's Anatomy just arrived on Disney+, and it topped the TV streaming charts for the week. "Buffy the Vampire Slayer" (premium VOD) was in second place for some reason, while the latest Disney+/Marvel series, Hawkeye, had to settle for a 6th place finish (my money is on it rising in the charts next week after the promising debut episodes).
Out of the top 10: "Dexter: New Blood" and "The Shrink Next Door". And despite breaking U.S. viewing records, "Yellowstone" dropped out too - the show has never had the same kind of following here in Australia to be honest.
Click on the image below to see a larger version.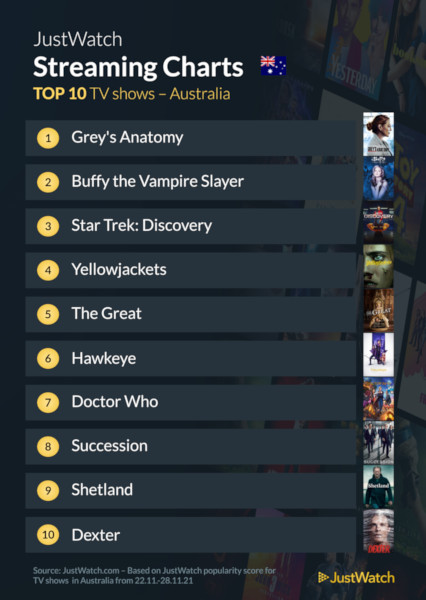 Looking for more content to watch, or looking to see where you can stream that TV or movie you want to watch? JustWatch allows you to easily search for a piece of content and find out how to stream it legally in Australia.