Binge Report U.S Streaming TV & Movie Charts: Hawkeye Debuts Strongly (November 22 - November 28, 2021)
Sean Fang
Wed, 01/12/2021 - 16:38
Welcome to our new Binge Report format, where instead of tracking binge sessions, we are now keeping track of the most popular movies and original TV shows that Americans have been streaming in the last week. For those interested in Australian numbers (provided to us by streaming search engine JustWatch), please have a look here. You can read last week's report here.
The TV Time app (iPhone and Android) helps users organise their streaming plans. The data here is tracked from American users of the app and some shows listed are not available in Australia without the use of a suitable VPN.
Movies:
HBO Max has been keeping "8-Bit Christmas" a relative secret when it comes to its complete lack of promotions, but this nostalgia rich Christmas movie has rightly performed, coming 6th on the streaming movies chart.
Netflix also surprise dropped Jonas Brothers Family Roast on us, and at 8th, perhaps a little bit more promotion couldn't have hurt. Black Widow is back in the top 10 at 10th after dropping out temporarily.
"The Princess Switch 3: Romancing the Star", "All Too Well: The Short Film", and "Psych 3: This is Gus" all exited the top 10.
Click on the image below to see a larger version.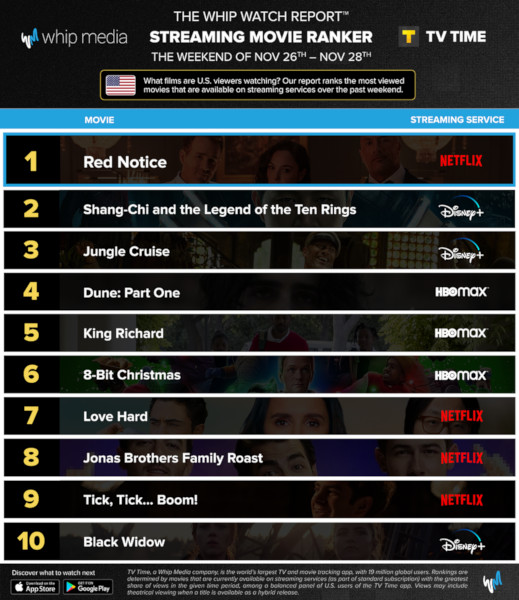 Streaming Originals:
Those that caught the double premiere episodes of Hawkeye would have spotted a "gotta get home by Christmas" plot taking place in a Marvel post Blip restoration universe. It was the most streamed original series for the week, and that sounds about right.
In third was Hulu's "The Great", still riding high thanks to the new season. Netflix's Cowboy Bebop was in 4th, while a new season of Hanna on Amazon Prime allowed the show to get back into the top 10, at 6th. A new season of Selling Sunset also saw it finish in 7th place.
To make room, these shows had to leave the top 10: "Big Mouth", "Foundation", "Locke & Key", "SEAL Team", and "Star Trek: Discovery".
Click on the image below to see a larger version.