Binge Report U.S Streaming TV & Movie Charts: Queens of Tennis, King of Tigers (November 15 - November 21, 2021)
Sean Fang
Fri, 26/11/2021 - 14:31
Welcome to our new Binge Report format, where instead of tracking binge sessions, we are now keeping track of the most popular movies and original TV shows that Americans have been streaming in the last week. For those interested in Australian numbers (provided to us by streaming search engine JustWatch), please have a look here
The TV Time app (iPhone and Android) helps users organise their streaming plans. The data here is tracked from American users of the app and some shows listed are not available in Australia without the use of a suitable VPN.
Movies:
Warner Bros' well-received biopic of Richard Williams, the father of Venus and Serena, was the most popular new movie to make it into the streaming movies top 10. "King Richard", available on HBO Max, was fourth.
Another biopic is also in the top 10, Netflix's Tick Tick... Boom! was in 7th place. The movie is an adaptation of the semi-autobiographical musical "Tick, Tick... Boom!" by Jonathan Larson (who also created "Rent") and is directed by Lin-Manuel Miranda in his feature directorial debut.
The Princess Switch 3: Romancing the Star and "Psych 3: This is Gus" (Peacock) were also new to the top 10, in 8th and 10th respectively.
Leaving the top 10 were the movies "Black Widow", "Ciao Alberto", "The Harder They Fall", and "Finch".
Click on the image below to see a larger version.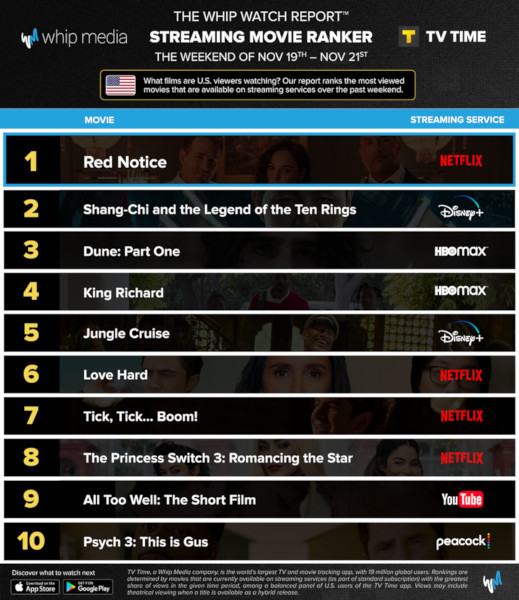 Streaming Originals:
At the top of the streaming originals chart was Netflix's engrossing documentary series Tiger King, now in its second season.
Amazon's ambitious, big-budget Game of Thrones-esque series The Wheel of Time debuts in the top 10 at 4th.
Netflix's League of Legends animated series Arcane was 7th, and rounding off the top 10 in 10th was the new season of "Star Trek: Discovery" (Paramount+) - no trouble watching the show in the U.S., but not the case everwhere else.
"Narcos: Mexico", "Doom Patrol", "Animaniacs", and "Love Life" all left the top 10 to make room.
Click on the image below to see a larger version.