Top 10 Aussie Streaming Charts: Spidey Week (Week Ending 21 November 2021)
Sean Fang
Wed, 24/11/2021 - 15:52
Welcome again to our weekly feature where we look at the most popular streaming movies and TV shows in Australia based on data collected by streaming search engine JustWatch. Data includes subscription streaming as well as transactional streaming titles. Click here to read last week's roundup.
Movies:
The release of the new "Spider-Man: No Way Home" trailer (see embed below) has helped to ignite a mini Spider-Man fever in the movie streaming charts, with three Spider-Man movies from the various franchises all re-joining the top 10. "Spider-Man", "The Amazing Spider-Man 2" and "Spider-Man: Far From Home" were 3rd, 5th and 6th respectively, and they were all only available on premium VOD streaming.
"The Grinch" arriving in the top 10 only means one thing: Christmas isn't too far away now.
"Skyfall", "Jungle Cruise", "Free Guy", and "The Green Knight" all left the top 10.
Click on the image below to see a larger version.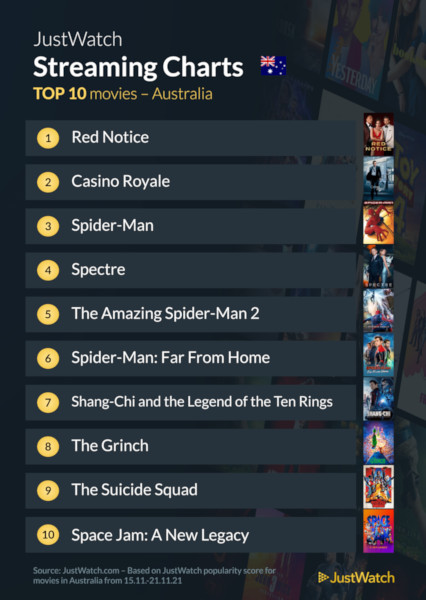 Television:
The top 3 were all new entries on the TV charts. "Star Trek: Discovery" has been controversial with it being pulled from Netflix and not made available outside of the U.S. until next year, when Paramount+ launches in key European markets. So the new season of the show is kind of in streaming limbo, not available anywhere in certain regions, including in Australia, at least not through legal means. Why it isn't available right now on Paramount+, which is available in Australia, is anyone's guess (probably contractual reasons).
"Yellowjackets", another Paramount+ exclusive, is in second place, while Stan's The Great was in third.
"Ted Lasso" leaves the top 10 after a great run, while the cleverly funny "Only Murders in the Building" also left along with "PAW Patrol".
Click on the image below to see a larger version.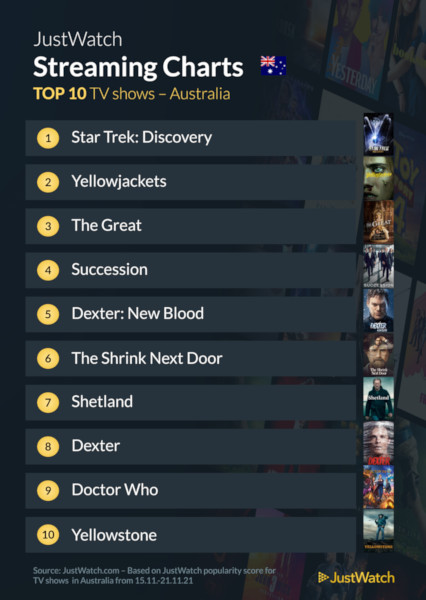 Looking for more content to watch, or looking to see where you can stream that TV or movie you want to watch? JustWatch allows you to easily search for a piece of content and find out how to stream it legally in Australia.