Top 10 Aussie Streaming Charts: Latest Snyderverse Entry Enters Top 10 (Week Ending 7 November 2021)
Sean Fang
Tue, 09/11/2021 - 13:01
Welcome again to our weekly feature where we look at the most popular streaming movies and TV shows in Australia based on data collected by streaming search engine JustWatch. Data includes subscription streaming as well as transactional streaming titles. Click here to read last week's roundup.
Movies:
Netflix's Army of Thieves, the prequel to the Zack Snyder "Army of the Dead", enters the top 10 in 5th place. The latest entry into the new (non-DC) Snyderverse isn't directed by Zack, but continues to do world-building in this fascinating new franchise.
Also new to the top 10 were "Spectre" (premium VOD), no doubt off the backs of the latest Bond movie, and "V for Vendetta" (premium VOD).
"Halloween", "Cold Pursuit", and "Hypnotic" all left the top 10.
Click on the image below to see a larger version.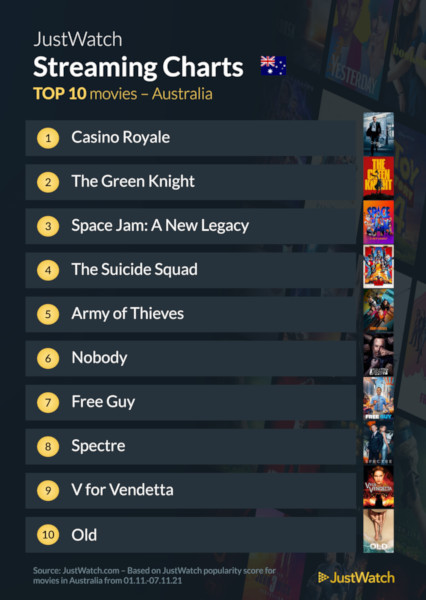 Television:
The new season of the super popular U.S. drama Yellowstone has helped it re-enter the top 10 streaming TV charts at 7th place.
"Shetland" (Foxtel Now, ABC iview for the latest season, Netflix for first 3 seasons) returns to the top 10 at 8th after dropping out temporarily, while "The Sopranos" (Binge/Foxtel Now) in 9th and "PAW Patrol" (Paramount+, Binge/Foxtel Now) in 10th were also new to the top 10.
Leaving the top 10 were "Succession", "Cowboy Bebop", "American Horror Story", and "Wentworth".
Click on the image below to see a larger version.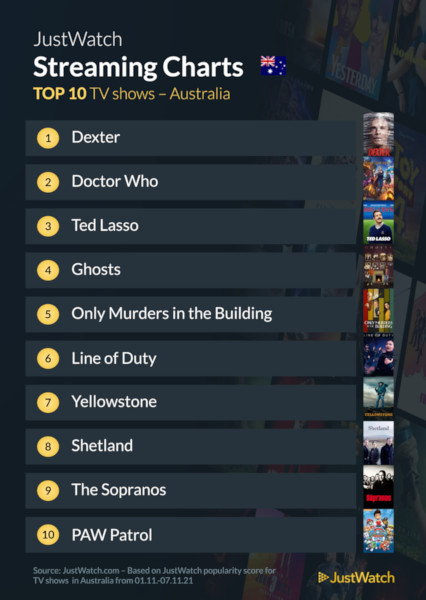 Looking for more content to watch, or looking to see where you can stream that TV or movie you want to watch? JustWatch allows you to easily search for a piece of content and find out how to stream it legally in Australia.