Top 10 Aussie Streaming Charts: The Story of Sir Gawain Captivates (Week Ending 31 October 2021)
Sean Fang
Tue, 02/11/2021 - 18:16
Welcome again to our weekly feature where we look at the most popular streaming movies and TV shows in Australia based on data collected by streaming search engine JustWatch. Data includes subscription streaming as well as transactional streaming titles. Click here to read last week's roundup.
Movies:
Critical darling The Green Knight was the most streamed movie for the week ending 24 October in Australia, thanks to the movie debuting on Amazon Prime Video.
There were three other new entries in the top 10, "Old" (premium VOD) is back again 8th after drifting in and out of the top 10 recently, while Cold Pursuit (also available on Binge/Foxtel Now) was 9th and Hypnotic was in 10th.
Leaving the top 10 were "Night Teeth", "Interstellar", "Promising Young Woman", and "Official Secrets".
Click on the image below to see a larger version.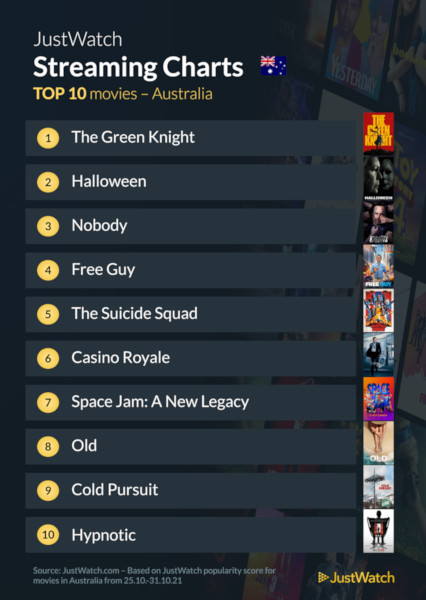 Television:
Only Murders in the Building continued to captivate audiences, still this week's top streamed TV show.
The new entries into the top 10 were "Dexter" (Paramount+) in 5th and "American Horror Story" in 7th thanks to the new 10th season of the show (which is only on Binge/Foxtel Now, but first 9 seasons also on Disney+).
8th to 10th were also new entries: "Wentworth" (Binge/Foxtel Now), "Doctor Who" (on a bunch of streaming services, including Stan, BritBox, Amazon Prime Video, and Foxtel Now, but the latest 13th season is only on ABC iview), and Ghosts (also on Paramount+, ABC iview).
"Vigil", "The Wire", "Shetland", "You", and "The Great" left the top 10.
Click on the image below to see a larger version.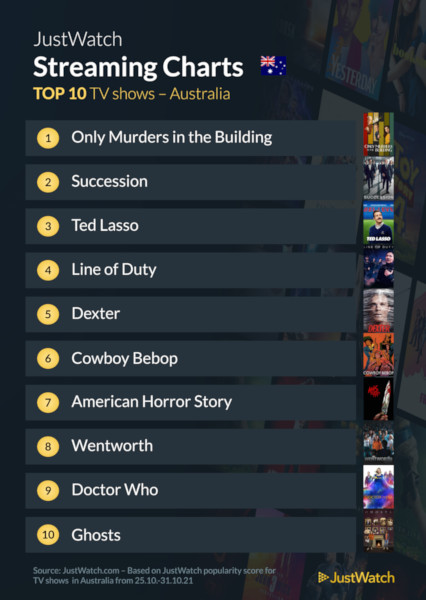 We also have the charts for the entire month of October, which you can see below. Free Guy and "Ted Lasso" (Apple TV+) were the winners in movies and TV for the month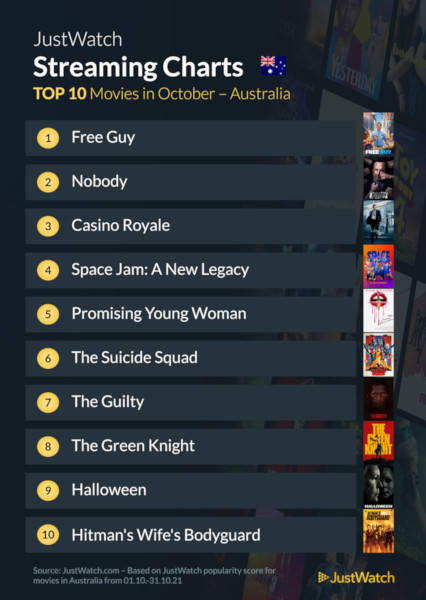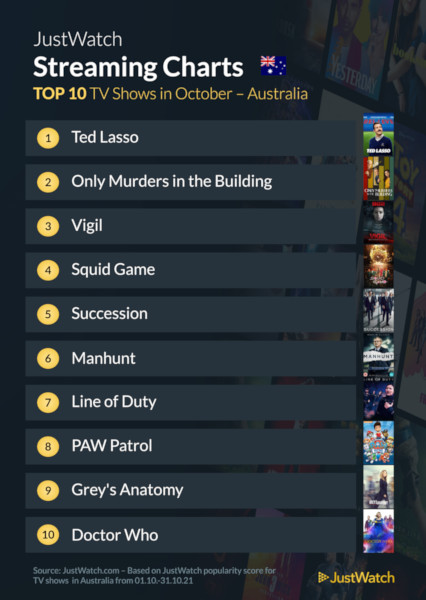 Looking for more content to watch, or looking to see where you can stream that TV or movie you want to watch? JustWatch allows you to easily search for a piece of content and find out how to stream it legally in Australia.