Top 10 Aussie Streaming Charts: "Black Widow" Fails To Perform (Week Ending 17 October 2021)
Sean Fang
Tue, 19/10/2021 - 23:12
Welcome again to our weekly feature where we look at the most popular streaming movies and TV shows in Australia based on data collected by streaming search engine JustWatch. Data includes subscription streaming as well as transactional streaming titles. Click here to read last week's roundup.
Movies:
We usually start this section by talking about what's new, but we will start this one by talking about what just left the top 10 - "Black Widow". Only after a single week in the top 10, Marvel's big-budget actioner seems to have left it. A movie that should have topped the chart, seems to have failed to perform and became a one week wonder just like the low-budget "Queenpins" from the same week. Maybe it still has time to turn it around, but it seems between the Disney+ Premier Access and cinematic showings, this one ran out of steam pretty quickly when it became "free to stream" for subscribers.
"Free Guy" was still top, but "Knives Out" getting a runout in second place is a bit of surprise - perhaps a Bond/Daniel Craig inspired binge fever? "Halloween" (the 2018 version, on Premium VOD) in 6th isn't too surprising considering the imminent release of "Halloween Kills", and "Scream 4" (Premium VOD) in 8th makes sense because the trailer for the next Scream movie just came out (see embed below). "Old" (Premium VOD) gets back into the top 10 at 10th.
"Black Widow" and "Queenpins" we've already mentioned, but the other titles leaving the top 10 were "The Guilty" and "Nobody".
Click on the image below to see a larger version.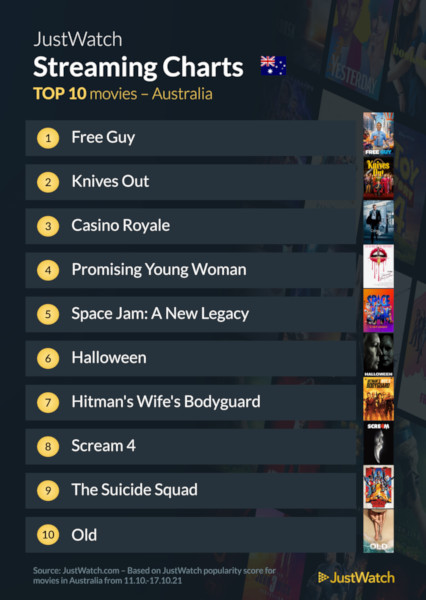 Television:
A bit less movement in the TV charts this week, with one in, one out.
"The White Lotus" (Binge/Foxtel Now) gets back into the top 10 at 5th, while Netflix's "Maid" left.
Click on the image below to see a larger version.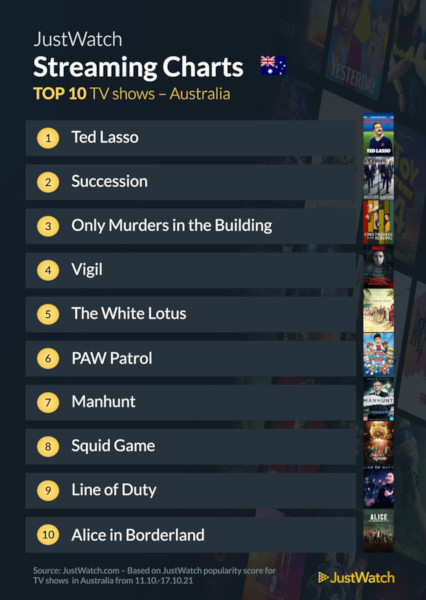 Looking for more content to watch, or looking to see where you can stream that TV or movie you want to watch? JustWatch allows you to easily search for a piece of content and find out how to stream it legally in Australia.