Top 10 Aussie Streaming Charts: Black Widow Debuts, Succession Catch-up (Week Ending 10 October 2021)
Sean Fang
Tue, 12/10/2021 - 17:03
Welcome again to our weekly feature where we look at the most popular streaming movies and TV shows in Australia based on data collected by streaming search engine JustWatch. Data includes subscription streaming as well as transactional streaming titles. Click here to read last week's roundup.
Movies:
Free Guy continued to reign at the top of the JustWatch streaming movie charts this week, although Netflix's guilty pleasure viewing The Guilty also held steady in second place.
There was a return of Promising Young Woman to the chart, in third place, after it became available for streaming for all Amazon Prime Video subscribers (previously a rent/buy option only). And I'm a little bit surprised that Black Widow only managed to get on the chart at 8th place - the movie has struggled at the box office somewhat, but perhaps the fact that it was only made available halfway through the reporting period counted against it and we'll see it rank higher next week.
The comedy crime caper "Queenpins" was also new to the top 10 in 9th, the movie just became available on Paramount+.
Leaving the top 10 this week were "The Dry", "Jumanji: The Next Level", and "Terminator: Dark Fate".
Click on the image below to see a larger version.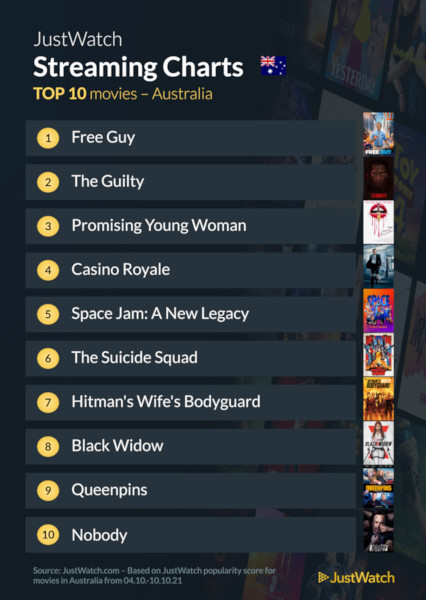 Television:
The season finale of "Ted Lasso" saw the show jump to the top of the streaming TV shows chart, leapfrogging over "Squid Game" (and no, leapfrogging isn't one of the Squid Game games). "Squid Game" continues to be popular in Australia (and indeed, around the world), so much so that the familiar premised Alice in Borderland (one of the titles that Netflix automatically recommends after you finish watching "Squid Game") also ranked, 9th, in the top 10.
"PAW Patrol" (Binge/Foxtel Now) was also new to the top 10, in 6th. "Succession" (Binge/Foxtel Now) is in there as well in 8th due to the new season coming this week and people wanting a refresher (puts hands up - "boar on the floor" is still as intense as ever, Squid Game level intense, despite no deaths). And Netflix's real and gritty limited series on domestic violence, Maid, was at 10th. Andie MacDowell ("Green Card", "Groundhog Day") stars with her real-life daughter Margaret Qualley and both are excellent in very different ways in the series.
Leaving the top 10 were "Midnight Mass", "Foundation", "Cowboy Bebop", and "Doctor Who".
Click on the image below to see a larger version.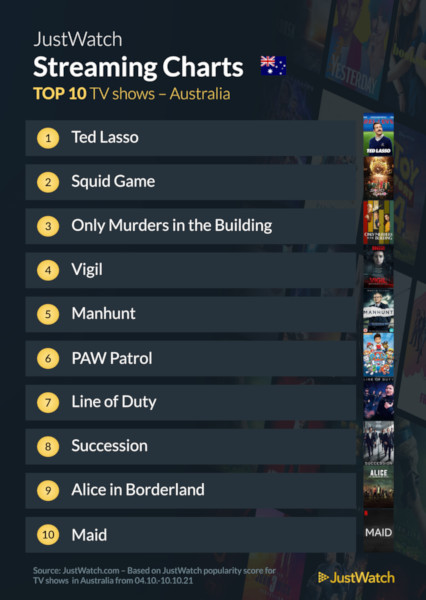 Looking for more content to watch, or looking to see where you can stream that TV or movie you want to watch? JustWatch allows you to easily search for a piece of content and find out how to stream it legally in Australia.