Top 10 Aussie Streaming Charts: Disney+ Exclusive and Netflix Supernatural Horror (Week Ending 3 October 2021)
Sean Fang
Tue, 05/10/2021 - 16:15
Welcome again to our weekly feature where we look at the most popular streaming movies and TV shows in Australia based on data collected by streaming search engine JustWatch. Data includes subscription streaming as well as transactional streaming titles. Click here to read last week's roundup.
Movies:
Some big changes in this week's movie charts, with no less than 8 titles moving in and out. The reason for some of the changes was obvious, others, less so. The super fun Free Guy being made free for Disney+ subscribers falls into the "obvious" camp, and it sat pretty at the top of the chart.
Netflix's new original movie Antoine Fuqua/Jake Gyllenhaal movie, The Guilty, sort of came out of nowhere with very little promotion, but with two big names attached, it's easy to see why it debuts in second place on the chart.
Aussie film The Dry just debuted on Amazon Prime Video, and so it earns a solid 3rd place finish.
We then have a series of premium VOD titles, "Casino Royale" (4th) most likely because of the imminent release of "No Time To Die"; "Jumanji: The Next Level" - a little less obvious as to why it's here; "Hitman's Wife's Bodyguard" and "Nobody" gets back in to the top 10 after a brief exodus.
So I guess other than "Jumanji: The Next Level", most of the new entrants were kind of obvious as to why they are here. Making way were "No Sudden Move", "Escape Room: Tournament of Champions", "Escape Room", "Spider-Man: Far From Home", "Carriers", "In the Heights", "Spider-Man", and "The Starling".
Click on the image below to see a larger version.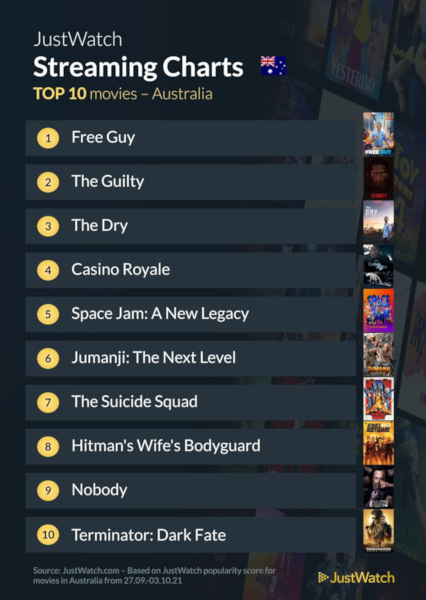 Television:
The TV chart was a bit more stable this week, with only 3 in, 3 out.
Netflix's Midnight Mass has captured the imagination of viewers with its interesting premise and has captured a 6th place finish as well, while "Cowboy Bebop" (Funimation) and Doctor Who in 9th and 10th were also new to the top 10.
"Squid Game" moves from 5th to 2nd as it garners more attention online for its ultra-violent, full of metaphor storyline, although I'm sure the numbers were affected by people pausing their binge after episode 6, needing some time to recover.
Moving out of the top 10 were "Y: The Last Man", "Mare of Easttown", and "Nine Perfect Strangers".
Click on the image below to see a larger version.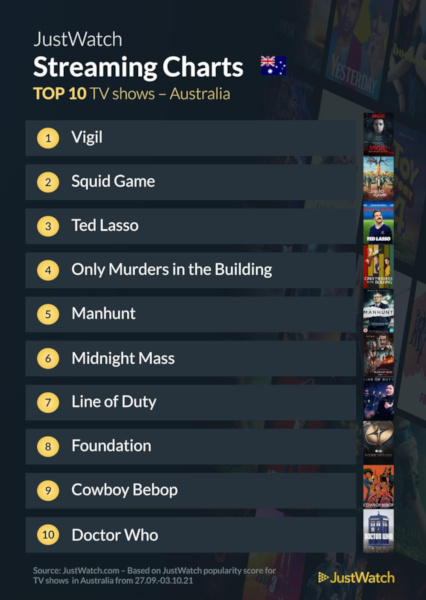 Looking for more content to watch, or looking to see where you can stream that TV or movie you want to watch? JustWatch allows you to easily search for a piece of content and find out how to stream it legally in Australia.