Binge Report: U.S. Most Popular Movies & Streaming Original TV Shows (September 13 - September 19, 2021)
Sean Fang
Thu, 23/09/2021 - 15:13
Netflix's Lucifer and James Wan's "Malignant" were the most popular original streaming series and movies for the week of September 13 - September 19, 2021, based on tracking data provided to us by TV Time for the American market.
The TV Time app (iPhone and Android) helps users organise their streaming plans. The data here is tracked from American users of the app and some shows listed are not available in Australia without the use of a suitable VPN.
Welcome to our new Binge Report format, where instead of tracking binge sessions, we are now keeping track of the most popular movies that Americans have been streaming or watching in cinemas, and original series that Americans have been streaming in the last week. For those interested in Australian numbers (provided to us by streaming search engine JustWatch), please have a look here
Movies:
Starting with movies, horror maestro James Wan's "Malignant" tops the inaugural TV Time Movie Ranker chart this week. Like most Warner Bros. releases this year (to the chagrin of people like Christopher Nolan), the movie is available to stream on HBO Max as well as playing in cinemas (something we can only dream of here in Melbourne, and in Sydney, right now). In second place was Marvel/Disney's "Shang-Chi and the Legend of the Ten Rings" - this one is only available in theatres in the U.S, but Disney has recently announced it will be coming to Disney+ in November, during "Disney+ Day".
Netflix's original movie Kate has been hitting the charts here in Australia as well this week, so this action flick starring the lovely Mary Elizabeth Winstead seems to be gaining some traction.
"The Suicide Squad" holds steady in third place.
Other notable entries in the top 10 include "Cruella", which has been available to stream on Disney+ for a while now, "Reminiscence", which is available on HBO Max in the U.S. but only on premium VOD here in Australia (hence why it's on the US chart, but not the Aussie one).
Amazon Prime's Cinderalla is 6th, while another Amazon movie The Voyeurs, is also on the chart in 10th.
Click on the image below to see a larger version.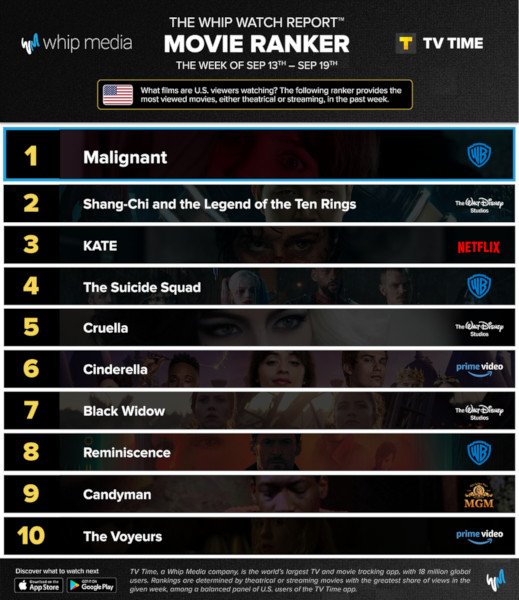 Television:
The most popular streaming original series this week was Netflix's "Lucifer". The decision to revive the show, and then to extend it to new seasons has really paid off for Netflix. Marvel/Disney+'s animated seriesWhat If...? ranks high this week as well, in 2nd. Apple TV+'s "Ted Lasso" is in third.
New to the top 10 this week was Netflix's Sex Education, season 3 just premiered.
Hulu's "Only Murders in the Building" has really caught people's imaginations it seems, while its other big premiere this week, "Y: The Last Man", is doing the rounds in the U.S. and around the world it seems. There's even a place for a Paramount+ show despite the young age of the streaming platform - Evil (the first season is available to stream here in Australia with Stan, but subsequent seasons will be with Paramount+ after the show moved from CBS to the streaming platform).
Click on the image below to see a larger version.