Top 10 Aussie Streaming Charts: Post Apocalyptic Hit (Week Ending 19 September 2021)
Sean Fang
Wed, 22/09/2021 - 17:23
Welcome again to our weekly feature where we look at the most popular streaming movies and TV shows in Australia based on data collected by streaming search engine JustWatch. Data includes subscription streaming as well as transactional streaming titles. Click here to read last week's roundup.
Movies:
Nothing this week has managed to unseat "The Suicide Squad" from its perch at the top of the JustWatch Australian movie streaming top 10. "Nobody" (available on premium VOD) has come back to the top 10 this week in 3rd place, while Netflix's original film Kate entered the top 10 at 5th.
2017's What Happened to Monday is in the top 10 (at 10th), and yet again, I can't think of any particular reason this sci-fi film is back in the charts. It may be because it was recently re-added to the US version of Netflix and this has caused a tiny stir on social media about this very much forgotten film, as this film has been on Stan for a while now.
Leaving the top 10 this week were the titles "Once Upon a Time ... in Hollywood", "The Matrix", and "A Star is Born".
Click on the image below to see a larger version.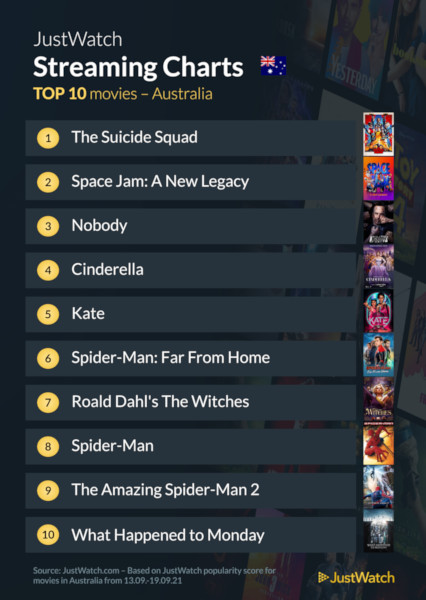 Television:
Y: The Last Man is a Hulu (or rather, FX on Hulu) show in the U.S., and while many Hulu/FX shows end up on Stan here in Australian, Binge were the ones to secure this potentially popular series all about the end of the world were all men and male species of animals have died, except for one man and his monkey. The show is second on the charts.
Morning Wars (or "The Morning Show", as it is known in the US) is back in the top 10 in 4th as expected due to the launch of the new season (it was on here a couple of weeks back while people binged the first season to catch up). Dexter on Paramount+ is back in the top 10 again, in 10th.
"The Wire", "American Horror Story", and "Clickbait" all left the top 10.
Click on the image below to see a larger version.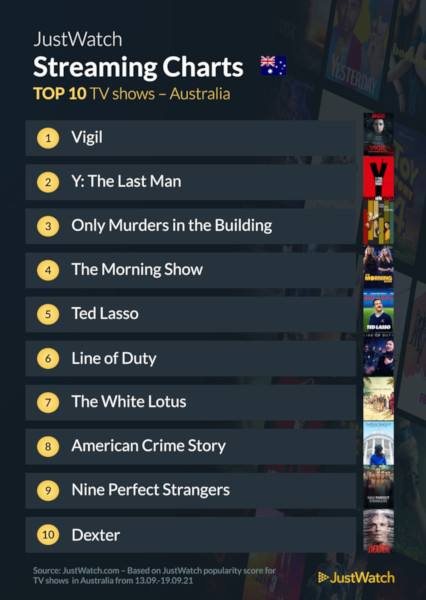 Looking for more content to watch, or looking to see where you can stream that TV or movie you want to watch? JustWatch allows you to easily search for a piece of content and find out how to stream it legally in Australia.