Top 10 Aussie Streaming Charts: Omar Comin', The Matrix Rises Again (Week Ending 12 September 2021)
Sean Fang
Wed, 15/09/2021 - 17:37
Welcome again to our weekly feature where we look at the most popular streaming movies and TV shows in Australia based on data collected by streaming search engine JustWatch. Data includes subscription streaming as well as transactional streaming titles. Click here to read last week's roundup.
Movies:
"Once Upon a Time ... in Hollywood" entered this week's in second place on the Australian movie streaming charts and I'm sure it happened for a good reason. I just don't have any data to formulate a theory as to why, unfortunately. Now, "The Matrix" (Prime Video, Binge) in the top 10 again (in 5th) after so many years makes sense because the new trailer for the fourth Matrix film, "The Matrix: Resurrections" (trailer embed below) just came out and so I'm sure there are Millenials and Gen Z peeps out there wondering what happened to the first three movies.
"The Suicide Squad" was still top of the charts this week.
"Roald Dahl's The Witches" is now on Foxtel Now and is also now in the top 10, at 7th, while "A Star is Born" is one of the top picks on the newly launched Paramount+ platform which explains its 9th place finish this week.
"Under the Volcano", "Space Jam", and "Wrath of Man" all left the top 10, as well as "A Quiet Place Part II" after a good and long run.
Click on the image below to see a larger version.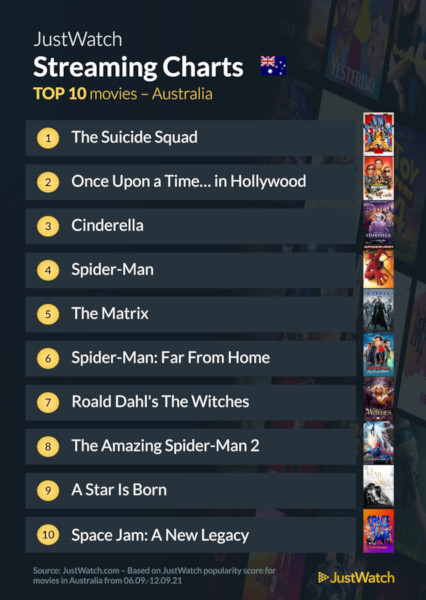 Television:
The sad passing of Michael K. Williams was a shock to all of us, and while he has been in so many great movies and TV shows, the one that really launched his career and the one he's still best known for as Omar Little in "The Wire" (Binge/Foxtel Now). This is perhaps why the critically acclaimed show (and for me, still the best TV ever produced) re-entered the Australian television streaming top 10, in 4th place. RIP Michael. Omar will always be Comin'.
And season 3 of "American Crime Story" just arrived on Binge/Foxtel Now, which explains its 5th place finish.
KEVIN CAN F**K HIMSELF and "Manifest" had to leave the top 10.
Click on the image below to see a larger version.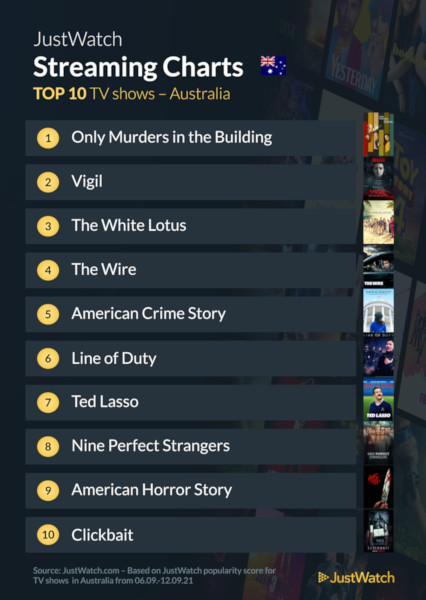 Looking for more content to watch, or looking to see where you can stream that TV or movie you want to watch? JustWatch allows you to easily search for a piece of content and find out how to stream it legally in Australia.