Top 10 Aussie Streaming Charts: Spider-Man Fever Hits Movie Charts (Week Ending 29 August 2021)
Sean Fang
Tue, 31/08/2021 - 17:28
Welcome again to our weekly feature where we look at the most popular streaming movies and TV shows in Australia based on data collected by streaming search engine JustWatch. Data includes subscription streaming as well as transactional streaming titles. Click here to read last week's roundup.
Movies:
Spider-Man fever has hit the streaming charts, no doubt inspired by the release/leak of the new "Spider-Man: No Way Home" trailer (embedded below). No less than 5 Spider-Man movies across different reboots were in the top 10, with "Spider-Man" and "Spider-Man: Far From Home" at the top of the chart, followed by "The Amazing Spider-Man 2", "Spider-Man 2", and "Spider-Man: Homecoming" in 4th, 5th and 9th respectively. The cross-reboot nature of these streaming binges bodes well for the multiverse storyline of the new Spider-Man movie.
Also very much a result of the current discourse is the entrance of "The Croods" (7th) into the streaming charts. 20th Century Studios must have been pretty pleased with the shout out from the Prime Minister.
Netflix's The Witcher: Nightmare of the Wolf was the other new entrant, in 6th.
With 7 in, 7 must go out, and they were "Space Jam", "The Accountant", "Wrath of Man", "Suicide Squad", "Field of Dreams", "CODA", and "Hitman's Wife's Bodyguard".
Click on the image below to see a larger version.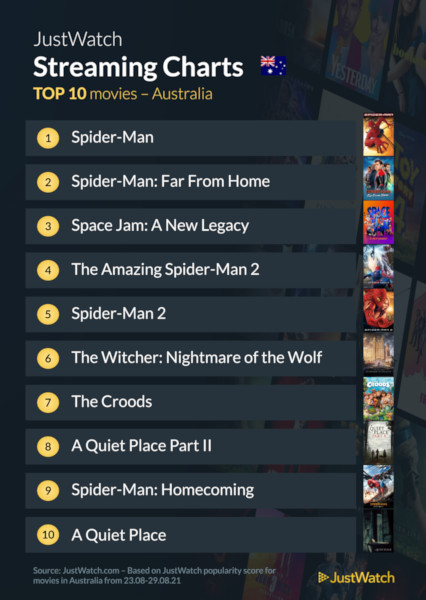 Television:
In television, the two somewhat similarly set hit shows, "Nine Perfect Strangers" and "The White Lotus" (both set in resorts/retreats) swapped positions this week at the top of the TV charts.
The second half of the final season of "Wentworth" (Foxtel) just aired, and so it's back into the top 10 in 3rd palce. Also new to the top 10 was "Cowboy Bebop" (6th), Netflix's new drama The Chair (9th), and in anticipation of the new season coming later in September (and the release of the trailer for it), "The Morning Show" came in at 10th.
Out of the top 10 were "Titans", "Brooklyn Nine-Nine", "Reservation Dogs", and "American Horror Story".
Click on the image below to see a larger version.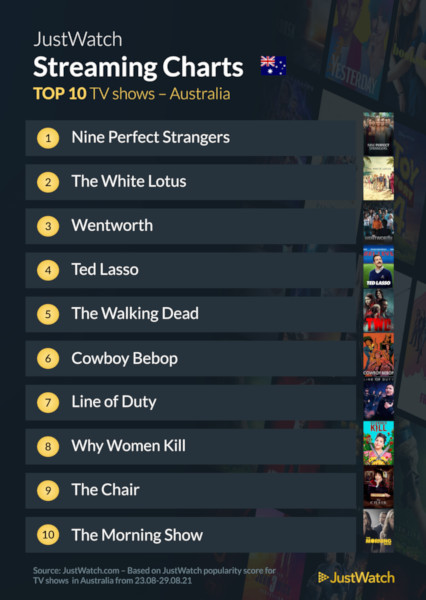 Looking for more content to watch, or looking to see where you can stream that TV or movie you want to watch? JustWatch allows you to easily search for a piece of content and find out how to stream it legally in Australia.