Top 10 Aussie Streaming Charts: The Suicide Squad Arrives (Week Ending 5 September 2021)
Sean Fang
Tue, 07/09/2021 - 20:04
Welcome again to our weekly feature where we look at the most popular streaming movies and TV shows in Australia based on data collected by streaming search engine JustWatch. Data includes subscription streaming as well as transactional streaming titles. Click here to read last week's roundup.
Movies:
You just knew this day would come when the 2016 "Suicide Squad" started appearing in the streaming top 10 - "The Suicide Squad" is now on premium VOD platforms (like Google Play and Apple TV) and it instantly shot to the top of the movie streaming charts. Oddly, there was no room for the 2016 film in the top 10.
"Suicide Squad" wasn't the only Premium VOD title new to the top 10 this wee - the music documentary "Under the Volcano" came in 7th, and "Wrath of Man" came back into the top 10 at 10th, both only available if you're willing to pay extra.
Amazon Prime's Cinderella featuring musical superstar Camila Cabello bucked the Premium VOD trend with a high 4th place finish.
Four came in, so four had to go out, and they were: "Witcher: Nightmare of the Wolf" (Netflix), "The Croods" (politics has moved on to other things now), "Spider-Man: Homecoming", and "A Quiet Place".
Click on the image below to see a larger version.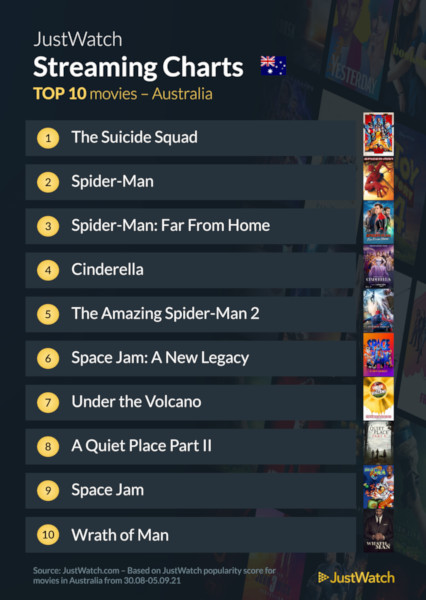 Television:
The TV charts had a much bigger shakeup than usual this week, with no less than 6 new entries.
The Hulu/Disney+ surprising hit Only Murders in the Building topped the chart, and was followed by British procedural miniseries "Vigil" (Foxtel) in second place. Netflix's new crime thriller original series Clickbait came in at 6th, and the new season of "American Horror Story" (Binge) helped it get back into the top 10.
The interestingly-titled KEVIN CAN F**K HIMSELF from Amazon Prime Video was in 9th place, while Manifest has finished its third season live broadcasts and is now available to stream entirely on Nine Now.
Leaving the top 10 this week were "Wentworth", "The Walking Dead", "Cowboy Bebop", "Why Women Kill", "The Chair", and "The Morning Show".
Click on the image below to see a larger version.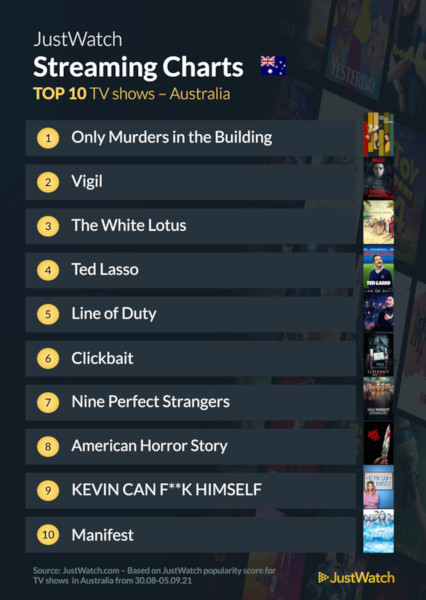 Looking for more content to watch, or looking to see where you can stream that TV or movie you want to watch? JustWatch allows you to easily search for a piece of content and find out how to stream it legally in Australia.