Top 10 Aussie Streaming Charts: Nine (plus one) Perfect Series (Week Ending 22 August 2021)
Sean Fang
Wed, 25/08/2021 - 17:18
Welcome again to our weekly feature where we look at the most popular streaming movies and TV shows in Australia based on data collected by streaming search engine JustWatch. Data includes subscription streaming as well as transactional streaming titles. Click here to read last week's roundup.
Movies:
The new "Space Jam" movie and the original film continue to dominate the streaming top 10, despite critics not loving the new film and not loving the original when it was released. While "Space Jam: A New Legacy" has disappointed at the cinemas, the pandemic and lockdowns might have made it the perfect film to stream at home.
Apple TV's original film "CODA" entered the top 10 at 9th. This critically acclaimed coming-of-age film is yet another piece of evidence (along with "The Morning Show", "For All Mankind", "Ted Lasso", "Mythic Quest", and soon, "Foundation") that suggests Apple TV+ is going to be a force to be reckoned with in the streaming-scape.
"The Accountant" (I assume it's the 2016 version) is also back in the top 10, for some unknown reason.
With three in, three has to go out, and they were Paramount+'s "Infinite", "The Hitman's Bodyguard", and "Spider-Man: Far From Home".
Click on the image below to see a larger version.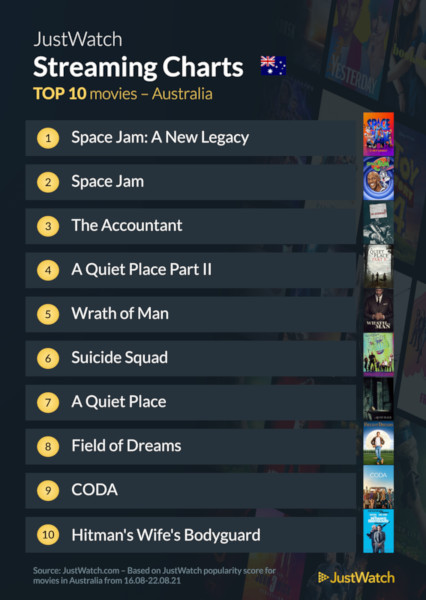 Television:
Hulu's "Nine Perfect Strangers" debuts in the TV streaming top 10 at a high second-place. Since we don't have Hulu here in Australia, the show is available to stream on Amazon Prime.
"The White Lotus" was still on top, although with the season having ended, it may start to slide in the ranks.
"The Walking Dead" and "American Horror Story" also return to the top 10 thanks to the debut of new seasons.
"Miracle Workers", "Mr Inbetween", "Hacks" left the top 10, for now.
Click on the image below to see a larger version.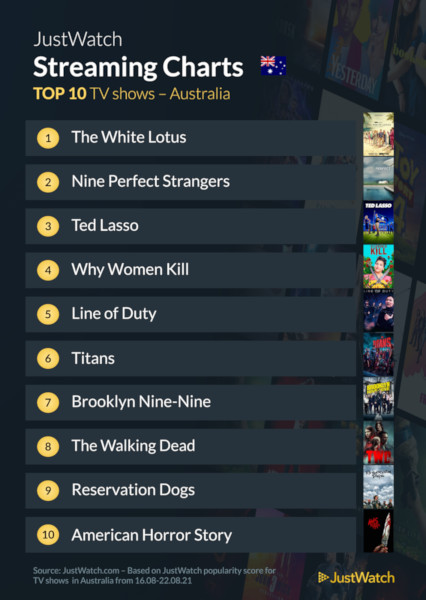 Looking for more content to watch, or looking to see where you can stream that TV or movie you want to watch? JustWatch allows you to easily search for a piece of content and find out how to stream it legally in Australia.